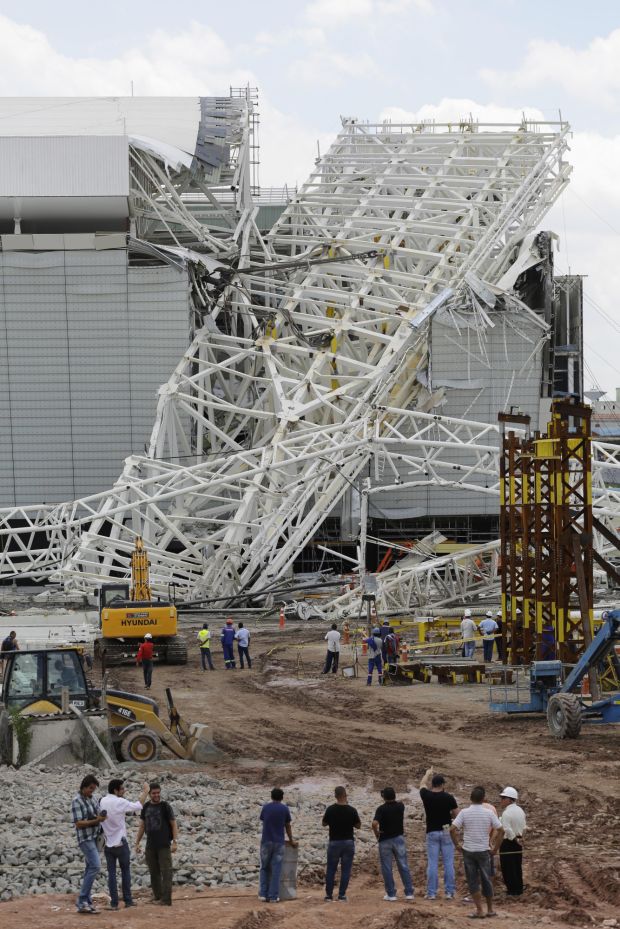 I'm tempted to create a series of posts entitled "Misleading Headlines" as the practice of putting headlines on stories that sensationalize articles to the point where they are misleading is becoming all the more common. I could write a daily post about ridiculous, attention promoting headlines from the online financial adviser Motley Fool.
In this case there was a story about a stadium collapse that caught my eye because of a comment a friend made over lunch the other day.
I'm a football fan and by that I mean a soccer fan. The World Cup is approaching and it is being held in the football mad nation of Brazil. The Brazilians are arguably the most successful national team in the history of soccer and having the World Cup played in their nation is a matter of tremendous local pride.
Back to that lunch. My friend heard that there were pollution problems in Brazil associated with upcoming 2016 Olympics and a bit of research on my part showed that they do have considerable issues in regards to fecal matter in the various waterways that will serve as venues for some sports in the game.
When I read about the "Stadium Collapse" I thought to myself that this was another example of problems within Brazil associated with upcoming sporting events.
The article was updated and in reading it I learned that a construction crane fell. This then caused a chain reaction that tore down part of the roof and a scoreboard in the stadium. While the incident is horrible and two people were killed it's hardly what I would call a "Stadium Collapse".
A crane fell on a building and caused some damage. That's what happened.
Anyway, for those of you who thought, as I did, that a stadium had actually collapses, that's the real story.
Stay tuned for more misleading headlines!
Tom Liberman
Sword and Sorcery fantasy with a Libertarian Ideology
Current Release: The Spear of the Hunt
Next Release: The Broken Throne