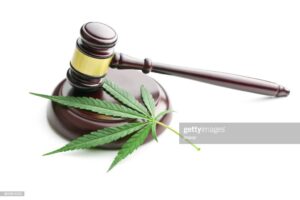 Everyone once in a while I need a reminder as to why I'm a Libertarian and my recent attempt to buy marijuana in Missouri gave me such. You see, I wasn't trying to buy marijuana in Missouri for myself, that's what the whiskey is for, I was trying to buy marijuana in Missouri for an 84-year-old woman with degenerative arthritis in her hip which causes chronic pain. Hint, it's my mom.
Turned away. Why? Because I was buying for someone else. I can purchase recreational marijuana for myself. No problem. Credit card please. It's for my mother who is in chronic pain, can't walk, and can't really get into the store without causing herself agony. Out you go, Tom. No demon gummies for you.
The Purpose of a Law
What is the purpose of this law? All I need do is go in and tell the clerk I'm buying it for myself. It's not an impediment. This is the sort of thing that gets my Libertarian blood in a huff. A huff, I tell you. I rolled my eyes and left. I suppose I could have stayed and purchased the marijuana for myself but I figured I didn't want to get the clerk in trouble. I'll go back later.
Who Wrote this?
Someone wrote this law. A group of legislators voted to pass it. The governor signed it. I understand some people don't like the fact marijuana is legal in the Missouri. That's fine, at least that's a defendable position, one I disagree with categorically, but at least an opinion.
Even if you oppose the sale of legal marijuana in Missouri you can't possibly defend this nonsense. It's totally useless. It does nothing. It stops nothing.
What could you do?
The simple solution is to limit the amount of marijuana I can buy. If I'm buying for ten people then this precludes me from purchasing so much. It's still pretty stupid even then as the ten people can just come in themselves and buy it on their own, they don't need me.
The Problem with the Law
My mother does need me to purchase because she isn't particularly mobile. The only effect of this law is presumably to prevent me from buying marijuana for my mother, although, it obviously does not do that. Useless law.
Conclusion
Stupid laws are stupid. Legislators that pass stupid laws are stupid. Vote Libertarian.
Tom Liberman