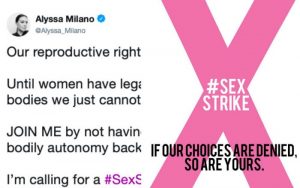 Actress Alyssa Milano is upset various states are creating prohibitions to abortion and wants her fellow women to deny men access to sex, a Sex Strike. This so-called solution is essentially the same logic people use for the war on the drugs, prohibition, and an attempt to ban Loot Boxes in video games. It's punishing everyone for the sins of a few.
The state of Georgia, and several others, are passing what are called Heartbeat Laws in which an abortion is made illegal as soon as the fetus's heartbeat is detected. Seeing as this detection can occur before a woman even realizes she is pregnant it essentially makes abortion completely illegal. Milano is being called out for a number of problems with her Sex Strike but I'd like to focus on the one more associated with my own Libertarian beliefs.
I'll let others spend time explaining to Milano that a Sex Strike is a negative for women who enjoy sex, which, my limited experience tells me, is damn near all of them. It suggests women should essentially extort men for legislative favors in exchange for sex. It simply ignores homosexual men, asexual men, and lesbians altogether because, I guess, they don't count. In addition, a fairly healthy percentage of women voted for and support these laws, so I'm not sure how the plan is going to work in that regard.
My problem is simply that you are attempting to punish an entire category of people because some of them are doing something you don't like. There are a great number of men who support a woman's right to have an abortion. The plan to go on a Sex Strike punishes those men indiscriminately for nothing they have done or even support. Some of those men voted directly against the bans in various states and certainly, many of them support politicians who actively work against such laws.
This logic is the same as behind our failed and violently destructive War on Drugs. Some people abuse drugs and therefore we must restrict them for all. Some people abuse alcohol and therefore we need Prohibition. Some people misuse guns and therefore they must be restricted for all. This lack of critical thinking is faulty and exhibited on both the Democratic and Republican side of the political fence.
Basically, you are calling for a lot of people to lose their freedom because other people are doing something you don't like. It's a vicious way of thinking. I'll pass a draconian law, Sex Strike, in the hopes people will cave to my demands in order to avoid the effects, lack of sex, of the legislation. I want to make a whole bunch of people suffer in order to get my way. That's not cool.
How about you organize and get women and men elected who support your point of view? Or is that too much to ask?
Tom Liberman