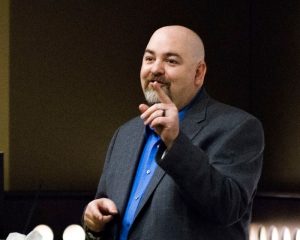 I just watched a YouTube video from my favorite Atheist show, The Atheist Experience, and I thought it an extremely instructive example of how we should all try to behave. In a nutshell, if you largely agree with someone on a subject but they are saying something stupid; you need to be the one to tell that person her or his behavior is idiotic.
The Atheist Experience is a show in which theist call in with arguments against Atheism although the show also takes atheist callers albeit less frequently. The hosts of the show rotate fairly regularly but for the call in question, the main host was Matt Dillahunty along with his co-host David Warnock. Dillahunty is a former Southern Baptist well trained in the arts of debate and logic with a deep understanding of theology. He is a fearsome opponent in any sort of philosophical debate and is internationally recognized as such.
The caller to the show, a woman named Rose, was clearly a well-meaning and rather sweet older woman who wanted to prove the existence of God through a particular line in the Bible. She had come to a gun fight without even the proverbial knife. Her points were logically dismissed with almost careless ease by Dillahunty but it is only after this that the important part of the call occurred.
Rose mentioned that her son asked her to call into the show. Dillahunty immediately came up with the hypothesis that her son was an Atheist and had sent his mother, if you'll forgive me, intentionally into the Lion's Den in order to humiliate her. Dillahunty asked Rose if her son identified as an Atheist. Rose confirmed the hypothesis and that's when Dillahunty and Warnock got angry, not at Rose but at her son.
"Your son is a dick," was basically the first thing Dillahunty said after he found out the reason Rose called. "He makes us all look bad," followed shortly thereafter from Warnock. They admonished the son, told Rose that the boy should apologize to her. They refused to speak anymore about the religious aspects of the topic because they did not want to further attack Rose, although they continued to harangue the son, who happened to be on the phone and attempted to explain his reasoning. Dillahunty and Warnock were having none of it.
The son was chastened. I feel very confident in suggesting that if religious people had rightly told the son his behavior was reprehensible, he would have given their opinion less consideration than he did that of Dillahunty and Warnock. That's a lesson for us all.
When we look into the topics of politics, religion, sports, whatever; people are not much interested in listening to or giving credence to the opinions of those who oppose them. It is only when people are called out by those on the same side that real change is likely to happen.
If I may pat myself on the back and recall an incident that happened at a St. Louis Rams game some years ago. I was a season ticket holder and had seen the decline in the years after the Greatest Show on Turf. One week we played the Denver Broncos who were coming off a season in which they reached the Super Bowl. The Rams played an outstanding game and dominated the Broncos. As the crowd was filing out one of my fellow Rams fans started yelling idiotic thing to nearby Bronco's fans. I immediately told him to show some dignity in victory, turned to the Broncos fans and thanked them for visiting St. Louis and wished them well. I'm happy to say the Rams fan shut his fat yap.
In any case, that's my advice to you. Don't worry so much about yelling at people you hate, call out the ones you like when they are behaving badly. If everyone did that, we might see some progress in this world.
Tom Liberman