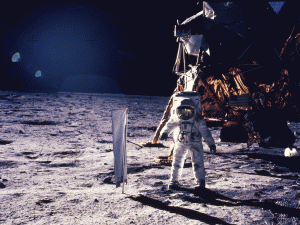 I'm an atheist. I'm not a what I would call a fundamentalist atheist in that I'm not out there trying to convince every Christian, Jew, and Muslim that atheism is the only right thing to believe but I do get into conversations with religious people on occasion. I think religious freedom is extremely important to the survival of the United States and people have every right to believe what they want and every expectation that the government cannot try to influence those beliefs.
I just read an interesting article from Yahoo Finance, of all places, about Buzz Aldrin's supposed experience with an alien space-ship during the Apollo 11 moon landing. It was during this mission that Aldrin saw a light apparently moving in tandem with his own craft. His words on the experience have long fueled those who believe aliens are among us.
So what's the connection between Aldrin's supposed alien experience and my atheism? If you scroll down and read the comments on the Aldrin story you will encounter what I frequently see when discussing the existence of God with the faithful. In the article Aldrin states specifically that when debriefed by NASA after the mission both he and fellow astronauts were of the opinion the light was sunshine reflecting off just released panels. He was interviewed about the matter years later and during that interview said the same thing but the producers of the show left that out of what was later aired.
While reading the comments below the article I was struck by how often those who truly believe in aliens were willing discount Aldrin's explanation. They believed the original quotes without their attendant explanation were his true opinion and that he was hiding something now by giving a new explanation. This, of course, defies the fact that Aldrin's original explanation is the one that makes the most sense and is a story he has told from the beginning although it wasn't always published.
I'm not here to discuss the merits of aliens or religion but simply the idea that it is all but impossible to convince someone that the thing they believe is false. I can present all the evidence I want for the lack of a divine being in the universe. I can trot out all the Flying Spaghetti Monster arguments that illustrate the bad logic of many religious claims. I can point out the huge gaps in logic in the Bible and other religious texts. I'm not getting anywhere with the True Believers. They have faith and you can't argue logically with faith.
So what's the point of my little blog? I'm speaking to those of religious faith who think the idea of aliens visiting the earth is a rather silly notion. Have you ever tried to convince a True Believer that their pet alien theory is nonsense? If you have, you know exactly what experience I have had trying to talk to people about the notion of God. I know this comes across as insulting, even demeaning but I hope that it will give those of faith some insight into what the atheists among you feel when discussing such topics.
Believe what you want, that's not only your business but a Constitutionally guaranteed right. I'm not here to convince you you're wrong. I'm here to tell you that I know you're wrong. There's a difference, however subtle.
Care to tell me that you know I'm wrong? The comment section awaits.
Tom Liberman
Sword and Sorcery Fantasy with a Libertarian Ideology
Purchase The Broken Throne today!
See All my Books