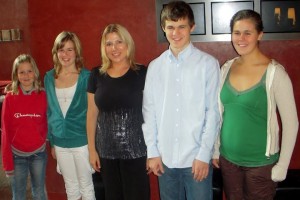 I just read a really nice story about a fellow named Magnus Carlsen who is the best chess player in the world. He might well be the best chess player in the history of the world. He also seems like a pretty nice guy.
The story goes into how Magnus took up chess at the age of five because he father was keen to teach both Magnus and his older sister, Ellen. According to Henrik Carlsen, Magnus didn't immediately pick up the game as have other chess prodigies throughout history. He learned the moves but didn't fall in love with the game and insist on playing it all the time. Then something happened.
About three years after learning the game his older sister started to get good at chess.
Now Magnus was interested in getting better at chess because, as Henrik says in the story, he just wanted to beat his sister. That's a motivation I understand thoroughly. You see, I have an older sister also. I pushed her down the stairs once. I dumped an entire glass of water in her bed once, yes, she was in it at the time. I tried to beat her at Risk and Monopoly but generally came out on the short end of that stick.
If you look closely at the picture you'll quickly note that Carlsen has two other sisters. The woman in the middle is mom who is not a chess player. I have five sisters including the half-sisters and step-sisters. So I've got Magnus beat there. If we just count up sisters I should be a significantly better Risk player than Magnus is a chess player. At least that's the logic with which I'm running.
There's not really a point to my blog today other than a shout out to my metaphorical sibling Magnus. I get it, my brother!
Now to try and figure out why I didn't become the greatest Risk player in the history of the world. There's got to be a reason.
Anyone other guys out there with a female, older sibling care to tell some stories in the comments?
Tom Liberman
Sword and Sorcery Fantasy with a Libertarian Ideology
Purchase The Broken Throne today!
See All my Books