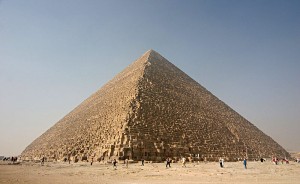 I saw an article this evening from LiveScience about how one of the great mysteries involving the Pyramids of Egypt was recently solved. It's not that big a mystery, despite what you may have heard or even think yourself.
The pyramids of Egypt seem to engender a lot of mysticism based on the concept of ignorance.
Ignorance about the Pyramids
I see comments on boards all the time to the effect that modern engineers could not build a pyramid even with today's technology. This is utter nonsense. Cranes can easily lift more weight than the pyramid stones and modern stone masonry can cut stones with much greater precision. Crawler Cranes, as one example, can lift up to 3,500 tons and the heaviest stones in the Pyramids were about 80 tons.
We Don't Know doesn't Mean what you think it Means
This is not what I want to talk about today. What I want to talk about today is the phrase, "We don't know how they built them." I hear this phrase all the time and it is often taken to mean that it was impossible for the Egyptians to build the pyramids and therefore they had to have some sort of help. An advanced civilization or aliens or some other such lunacy.
"We don't know how they built them" does not mean that. What it means is that we have no written record of how they were built. There are any number of very reasonable theories. All of which might be partially or completely correct.
The original article I read presents a good argument that dragging the stone blocks across the desert would have been even easier than other methods suggest. It's not particularly ground-breaking news but the comment section is filled with people absolutely married to the idea that the Egyptian Pyramids, and others around the world, could not possibly have been built by the societies that built them.
So, what does "We don't know how they built them" actually mean? I'll give you an example of what it means.
Do you know how I got to work this morning?
Your correct answer is, "I don't know how Tom got to work this morning."
However, you can make excellent guesses based on the evidence. Was my car in the parking lot? Was my car parked at home anytime last night? What did the odometer on my car this morning read compared to what it read last night?
By looking at the existing evidence and deducing how I traveled you can guess that I drove my car to work. You don't know I drove my car to work. I might have done so but I might have hired someone to drive my car to the parking lot while I walked to work. I might have built a jet engine and wings onto my car and flown it to work. I might have been picked up by aliens, flown to Jupiter, had a breakfast burrito under the seas of Europa with an intelligent life-form called the Bortlebuts, and then used a transporter from the Enterprise back to my office.
Occam's Razor
Which is the most likely explanation? That same logic applies to the pyramids. This same way of critical thinking is crucial to finding correct solution to problems that present themselves in everyday life.
We live in this amazing Information Age and can easily look things up and make informed decision. Why do so many people choose to eschew reality and plunge foolishly into fantasy? I just don't understand. Believing things that are in all likelihood false is a bad habit to be in and an even worse one to teach, by example, those around you.
How do you think I got to work this morning?
Tom Liberman