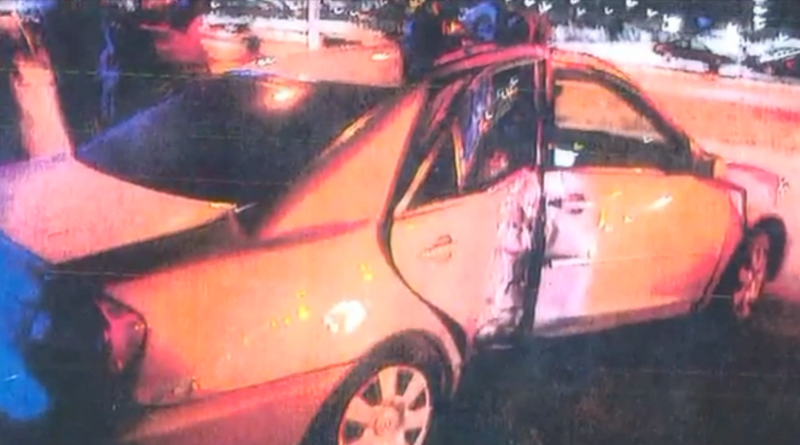 Earlier this week I ran a story about good guy Sheriff Jimmy "J.J" Jones of the Knoxville, TN. Footage came out that exposed one of his officer as a sadistic bully and Sheriff Jones immediately fired the offending man.
I just read this story where an officer in Milwaukee, WI ran a stop-sign and hit another woman's car so hard it spun into a tree. She suffered a broken neck from the accident. At the scene the officer claimed he did not run the stop-sign and the woman's lights were not on therefore he could not see her.
While awaiting the ambulance, officers questioned Tanya Weyker about alcohol or drug use and eventually charged her with five crimes including driving drunk and causing an accident. There is no happy ending to the story but Weyker was exonerated when surveillance video showed that Deputy Joseph Quiles ran the stop-sign and Weyker's lights were on.
Charges were dropped, Quiles was given a whopping nine-day suspension, and the county is thus-far refusing to pay her hospital bills and actually sent her a bill for the damage to the deputy's car.
That's all just a prelude to what I really want to talk about.
I want to talk about the kind of community that will arise under the stewardship of Sheriff Jones and that of his counterpart in Milwaukee.
There are so many great police officers out there who are dedicated to their jobs and to protecting and serving the people of this nation. What happens to men and women like that when they see people like Quiles getting a nine-day suspension for lying in a report and nearly killing a woman in an accident?
Contrast that to what will happen to dedicated officers under the command of a man like Sheriff Jones.
There are also men and women attracted to law-enforcement because it gives them the opportunity to bully and torment people. What happens to this sort of officer in the department led by Sheriff Jones? And their counterparts in Milwaukee?
The entire department follows the lead of their commanders and when leaders allow men like Quiles to escape all but unpunished after heinous crimes, for which you and I would face prison, there is only one direction the entire department is heading. If you happen to live in a county where men like Quiles are welcomed into the force; you or someone you know will eventually pay the price.
Likewise, if you happen to live in the county led by Sheriff Jones you will be far more secure. Not only because of Sheriff Jones, but because of the men and women who follow in his footsteps, who become officers in your neighborhood. It is hard to estimate the good that men like Sheriff Jones do for all of us.
I imagine anyone who has a young son or daughter thinking about joining a law-enforcement agency hopes that a man like Sheriff Jones is charge of their child.
I totally understand and applaud the concept of loyalty. But it can be taken too far. You cannot be endlessly loyal to someone who does not earn it. In order for society to function people must eventually do what is right. When you do, everyone except the evildoers win. That's a good thing.
When good men are discouraged and evil men excused it is a recipe for disaster.
Tom Liberman
Sword and Sorcery fantasy with a Libertarian Ideology
Current Release: The Broken Throne
Next Release: The Black Sphere