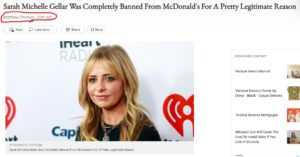 It's been a while since I've added to my Misleading Headline category but a story regarding Sarah Michelle Gellar and a lifetime ban at McDonalds rises to the occasion.
Matthew Thomas of the TheThings must be proud of sheer stupidity of this misleading headline and article. I read a lot of stories and I rarely encounter anything this incredibly illogical and stupid. I urge you to read the entire article, not just the incredibly misleading headline.
I'll go ahead and give you quick summary of the abject stupidity presented here.
Burger King Commercial
As a child actress, Sarah Michell Gellar featured in a Burger King commercial. One of her lines included a claim that McDonalds hamburgers contained twenty-percent less beef than Burger King burgers. Following along so far?
McDonalds Sues
McDonalds then filed a lawsuit over this commercial and apparently Sarah Michell Gellar was named somewhere in the suit. She confirmed as much when asked about being sued by McDonalds when walking down the street one day. Proof positive, obviously.
Let's Ignore the Fact Checker without any Facts
Thomas then goes on to link an article from the Huffington Post that debunks the claim Sarah Michelle Gellar was banned from McDonalds. Ok, seems reasonable so far. Then Thomas goes on to write "Despite the aforementioned fact check …" and what follows is utter gibberish.
Thomas posits because McDonalds apparently did file a lawsuit in the case, it stands to reason that maybe they also banned five-year-old Sarah Michell Gellar for life. I mean, just follow the logic, right? If they are willing to file the lawsuit then why wouldn't they ban her for life? That's it. That's the entire train of logic from beginning to end.
Birds can fly so it's perfectly logical there are birds on the moon being hidden by NASA because the earth is flat or something.
Anything is Possible
The stupidity of Thomas is based on the idea anything is possible. I wrote a lengthy blog on how the Egyptian Pyramids were built which discusses this concept in depth. Just because anything is possible doesn't mean that the highly unlikely things are just as possible as the obviously possible things.
First off, how would McDonalds go about enforcing such a ban? I haven't been to McDonalds in a long time but as I remember, no on checks identification before you order. Suffice it to say that such a ban is clearly impossible to enforce.
Conclusion
This headline is ridiculous and clearly false. The story that supports the headline is such an illogical mess of writing that it boggles the mind.
Tom Liberman