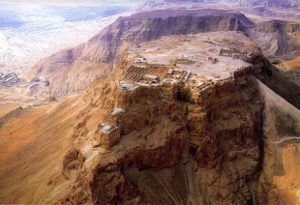 Almost two thousand years ago Roman soldiers besieged Masada which was held by a splinter group of Jewish people called Sicarii. This group strongly opposed Roman occupation of Judea and carried out a terrorist campaign to prosecute their beliefs.
Eventually less than a thousand of them took refuge in Masada where they held out for a few months before Roman engineers finished a ramp into the fortress. When the Romans finally arrived, they found the Sicarii had all committed suicide rather than be captured.
This event has come to be celebrated as symbol of Jewish heroism against overwhelming odds although another opinion is that it was simply a group of violent extremists who forced the Romans into drastic action. That the Sicarii brought about their own deaths because they refused to accept reality and engaged in a series of assassination against not only the Romans but any residents of Judea who they deemed sympathizers.
Which was it? Heroic martyrs or violent extremists? I think the answer to that question contains a great deal of value to the modern world. I won't keep you in suspense. It's apparent to me the Sicarii were violent, murdering, extremists tied to a hopeless position and willing to drag down anyone who opposed them.
The Roman occupation of Judea was generally, as were many Roman conquests, enlightened. The Romans brought their laws, clean water, and other benefits with them. This was one of the main reasons they were able to conquer much of the world. The daily lives of the average person improved under Roman rule as compared to the previous government.
I'm not saying it was all wonderful for everyone. Certainly, the leaders of the former regime often met gruesome fates or at least lost their power and prestige.
The reason I mention this is because the modern-day equivalent to the Sicarii are radical Islamic terrorist. The people who are carrying out the most horrific and terrible violence against innocent civilians would actually be far better off under the rule of those who they see as invaders. They live under despotic, theocratic rulers who allow them very little freedom and restrict their general well-being in any number of ways.
The terrorists are essentially fighting to preserve their own misery. As individuals, they have committed to a particular side and refuse to compromise in any way or even accept the fact their leaders are far from ideal.
While the terrorists are somewhat responsible for their own circumstances there are other culprits. The western world spent many years exploiting these nations for their mineral resources while propping up said brutal dictators. We are still doing so.
I think it's important to understand that we can only be responsible for own behavior. We can't tell a terrorist to stop her or his suicidal course. When we seek out and kill terrorists, when we support brutal dictators, when we cause terrible hardships through economic sanctions, we only push more and more of the population to terrorism. We can only control our own actions.
That's a little bit off topic as to my point today. I'm saying that we all have choices in life. We should make decisions that are going to be in our long-term benefit. The Sicarii chose a path that led to their own destruction and did not benefit their nation in any way. Modern-day terrorists are doing the same thing.
The United States is making choices that create far more terrorists than we kill and has been doing so for some time.
What choices are you making?
Tom Liberman