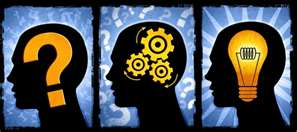 A plethora of news stories in recent days reminded me why I'm of the opinion that the solutions to many of the problems we face today lies in teaching Critical Thinking skills from an early age. Solutions will never come from government warnings and the illusion we are safe because of such intervention does more harm than good.
Let's take a look at the trio of stories that caught my attention. The Food and Drug Administration is now attempting to shut down various Vaginal Rejuvenation clinics whose services have no known efficacy and, if improperly performed, can cause harm. Many people have been fooled by a fake $100 gift card for Chipotle. Finally, a woman is suing Canada Dry because there is no ginger in their Ginger Ale despite advertisements that suggest there might be such.
What do all these things have in common? The people who are harmed lack Critical Thinking skills. In the first case, the American College of Obstetricians and Gynecologists has been vociferously lambasting Vaginal Rejuvenation as a scam for over ten years. Anyone who goes in for treatment of their body without doing at least a cursory investigation of the procedure about to happen is clearly not engaged in Critical Thinking.
At least some of the people who fell for the Chipotle scam gave away personal information to the scammers in order to get a free $100. Probably the motto of the Critical Thinking movement should be: Nihil est in vita liber. Nothing is Free in Life. If you thought Chipotle was going to let you purchase $100 worth of food for simply passing along a web link you are clearly lacking in Critical Thinking skills.
In the case of the ginger less Ginger Ale, the ingredients are on the bottle. Certainly, the advertising is designed to fool but if you want to make sure you get your daily dose of ginger, then it is imperative for you to look at ingredients.
All three of these problems require no government intervention. Certainly, if a medical procedure is botched there should be ramifications and the legal system can be invoked, but that would be for doing damage, not for you getting a stupid procedure that doesn't work when there was readily available information to that effect.
We may look at the people fooled in all three cases and happily pat ourselves on the back for being too smart to avoid it but the reality is more sinister. As more and more people exhibit an inability to engage in Critical Thinking, the fabric of our society becomes unwound. Those of us capable of making good decisions are increasingly harmed by those who cannot. When a certain percentage of people in a society can no longer think critically, the society will most certainly be crushed.
More and more people entertain ludicrous conspiracy theories and act in ways that can potentially harm us all. This is dangerous for me and that's the person I care about the most. I don't really care that a bunch of idiots are harming themselves, that's the way the world works. I care they are harming me.
How do we solve this problem? There is no way to account for everyone's gullibility and stupidity. Some people will be foolish no matter how much we warn them. However, if we start teaching Critical Thinking skills at every step of the schooling process I'm of the opinion we will do far more good than any number of government regulations designed to protect us.
Nihil est in vita liber.
Tom Liberman