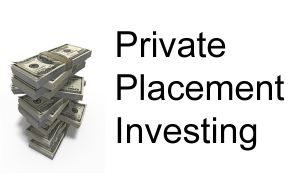 There is a type of investment called a Private Placement that, over the last few years, has found an increasing market share in the financial world. Instead of investing in a stock or bond, a Private Placement is an investment opportunity offered to a limited group. It is sort of like Crowd Sourcing for finance.
There is nothing wrong with a Private Placement as long as it is backed by reputable investors. The problem is, more and more of these investment opportunities are really just scams. I recently read an article about a company called Woodbridge Group of Companies LLC that went bankrupt leaving a large number of investors in difficult financial situations.
The idea is simple enough. I plan on making various purchases which will generate a good amount of income. I don't have the capital to do it. I enlist the aid of accredited investors to advertise my plan and attract investors. They give me money, I use the money on various investments, then I pay back the money as interest on the principal. After a period of time I return the principle to the investors and everyone wins.
Naturally, some people see this as a way to bilk unwary investors out of their money. They enlist others of a shady nature to do the selling and pay them excellent commissions. Eventually the investments don't earn enough money to pay back to the investors so a Ponzi Scheme begins wherein new investors have their money transferred to previous purchasers. That's what reportedly happened with Woodbridge.
One of the things that struck me about the Woodbridge case is they were not making outlandish claims of riches. The advertisements were offering a modest 8% return on investment which, in this Bull Market, is actually below what I've experienced over the last eight years or so. This level of sophistication might attract a savvier investor who is wary of get rich quick schemes. Certainly, the list of Woodbridge investors has some prominent names.
What does all this mean? For investors who don't go through brokers, it means a lot. For people like me who use a financial advisor with an excellent track record, not so much. My advisors can spot these sorts of schemes from a mile away. Me? I wouldn't know a good investment from a hole in the wall. I'm good at writing. That's why I don't do my own financials.
Something to think about if you're considering a Private Placement.
Tom Liberman