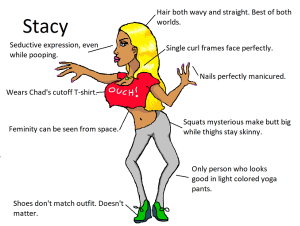 The murders of ten people by Alek Minassian in Toronto has brought to light a group of self-centered jerks calling themselves Incel. These men rage against society for their inability to have successful sexual relations with women. There's a lot of ridicule for Incel on Facebook, and rightly so, but it largely seems focused on the Incel version of the ideal man, Chad, rather than about their ideal woman, Stacy. In this era of #MeToo and gender equality I think it speaks volume as to inequalities that persist.
I'm not going to discuss the complete lack of personal responsibility espoused by Incel. What I'd like to talk about is the public's apparent fixation on Chad at the expense of Stacy. That's not to say the generalizations attributed to the Chads of the world are less egregious than those of the Stacys, just that we men seem utterly determined to clear our name while women seem less compelled to speak up on their behalf.
Basically, those who call themselves Incel make wild generalizations about men and women. Virtually everyone is insulted by these terms but I'm only reading articles about how horrible these simplifications are when it comes to men. When it comes to the Stacys of the world or other generalizations about women there seems to be utter silence.
What's that about? There are probably a lot of factors involved and there is no simple explanation but I think the underlying pathology is that we still largely live in a male-centric world. For most of the history of humanity women were largely tied to the fact, should they want to have regular sex, they got pregnant and then produced food for babies. This genetic reality gave very different roles in society to men and women. Again, I don't want to get too involved in all of this type of thing.
Men are horribly offended by Incels, well, men like me and most of men I know feel that way. We despise the fact we're either lumped into the Chad category or some other group that hardly represents us in any way. We rather like women and all their lovely bits. We feel the need to defend our gender against these losers. Rightly so. That being said, where are the women? Why aren't they writing about how they too have been horribly insulted.
Are women used to being lumped into unfair and unrealistic categories? Are attractive women used to being generalized? Are they not at all surprised by the ridiculous terms used by Incel? Is it perfectly normal for them to be treated as a caricature rather than a person? Is this why we don't see more rage coming from attractive women?
We men certainly aren't used to such attacks. I've been called a nerd but that isn't gender specific. The idea of either being a Chad or some or subclass of a Chad pissed me off. I wanted to write a blog about how we men shouldn't be so categorized but plenty of other people took up the pen and did it for me. I had nothing of interest to add to the plethora of enraged fellows, so I wrote nothing.
Wherefore art thou, Stacy?
Tom Liberman