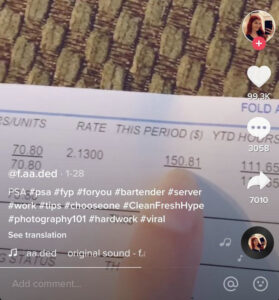 I just read an interesting article about how little restaurant workers are paid and it reminded me that tipping is taxes. I'm not certain exactly how tipping at restaurant became ubiquitous in the United States but I suspect it was nefarious from the beginning.
The article in question details how a waitress at a restaurant got a paycheck for $9.28 after working for seventy hours. That's quite a bit below what the government considers her lowest possible wage of $2.13 an hour but apparently taxes reduced her paycheck from $150.81 to the aforementioned amount. She posted the article to illustrate why you should tip your waitstaff when dining out. I have a different take.
Tipping is Taxes on you
When you tip, you are paying a tax. The tax is simply the restaurant's way of charging you less for the food up front by paying their employees ridiculously low wages. The wages for restaurant employees are so low that no one would do the job if it wasn't for tips. Working for that pathetic a wage is simply not a feasible alternative.
At some point someone got the idea we should tip restaurant workers. As I said, I suspect it was a restaurant owner who simply didn't want to pay workers a reasonable wage. We think of tipping as a way to compliment the staff for their service but it is merely a tax, and a big one at that. One the state and community doesn't track. Every time you pay twenty percent extra, or more, for dining out, you are paying a tax.
You Pay Taxes on the Food Too!
Not only do you pay a tax to cover the cost of employing the staff but you also pay the government a tax to eat the food. The restaurant owner forces you to pay for their staff and then the government swoops in and gets a cut as well.
I've written before that I'm not opposed to taxes altogether. The government collected money from citizens to build the roads leading to the restaurant and to create the infrastructure bringing utilities to the restaurant. I don't mind this, that's all well and good. What I mind is paying the staff. That's the job of the restaurant. Do I tip when I shop anywhere else?
Not only is Tipping Taxes but it's Essentially Theft
Basically, the restaurant is stealing from the employee every time the total income is less than what the market would bear if wages were based on work rather than tips. It's the restaurant's way of not paying their employees.
When tips exceed the normal payment of such an employee then the restaurant is stealing from you. You are essentially overpaying the staff for the food you got. That is a determination that belongs solely to the employer, not the customer.
Stop Tipping and Start Paying a Competitive Wage
People get all angry when a new tax is floated by the government but we pay a huge rate for simply sitting down to eat food.
Naturally, if restaurants pay a fair wage to keep good employees, the cost of eating at the restaurant will go up. That's the price of doing business. You pay your employees their worth and if you still make a profit, you stay in business. That's capitalism.
Conclusion
Tipping is not capitalism, it's a tax. It's not even a stealthy, hidden tax that we don't notice. We all know about it. Many of us pay it although some people don't tip at all. I don't think anyone should tip. Pay your employees their worth and charge me accordingly.
Tom Liberman