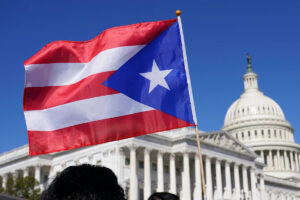 I just read an interesting article about legislation passed in order for Puerto Rico to vote to enter the United States or separate from it. The reason it's interesting to me is because the process of admitting a new state to the Union is spelled out directly in Article IV, Section 3, Clause 1 of the Constitution of the United States.
Why is any special authorization needed in order for Puerto Rico to apply for admission? It makes no sense to me at all, but maybe someone can explain it.
It's all there Already
The entire process of joining the Union is completely laid out in the Constitution. Anyone territory or region that wants to join has a referendum and, if successful, can apply. Generally speaking, there is a waiting period while the territory or region puts together their state constitution and then Congress votes on whether or not to accept it into the Union.
It's not rocket science. Are special rules required for Puerto Rico to apply for entry into the United States as a new state? It's ludicrous. There is nothing to prevent any region or territory from applying. If some far-off country decided they wanted to apply, so be it. Congress is under no obligation to admit any territory or region.

Who is the United States to tell Puerto Rico they can or cannot Apply?
Since when do we make the rules for application for admission. It's not up to us to determine if you want to apply or not, it absolutely is up to us to decide if we accept the application. Nothing else even begins to make any sense to me.
Why can't anyone apply? It's insane that Puerto Rico can't apply. They've had a number of referendums ever since the United States took over from Spain in 1898 after the Spanish-American War. Puerto Rico has been a territory ever since with the people being United States citizens but without voting rights, no Congressmembers, and no federal income tax on earnings made in Puerto Rico.
Good Idea or Bad?
I'm not saying it's a great thing for Puerto Rico to join the United States nor am I saying it's a good thing for them end territorial status and become an independent nation. I'm saying it's up to them and always should have been. Why would they need a special law to leave or join? It's a baffling mystery to me.
Add States to the United States
I will say that I think it's a terrible shame we've admitted no new states since Hawaii in 1959. The United States should never have let partisanship prevent the entry of states. I won't get too deeply into this topic or the sham that is West Virginia but I do think we should be growing and incorporating more of the world in the grand experiment, not cutting ourselves off.
Conclusion
If the people of Puerto Rico want to join the Union, so be it. They can apply. It's as simple as that.
Tom Liberman