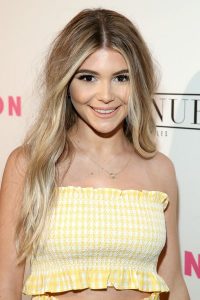 I know it won't be a popular opinion but I think the only real way to stop the behavior associated with the college admission scandal is to simply let kids like Olivia Jade Giannulli into school in their own category. If Olivia Jade and the legion of kids like her, who have the wherewithal to not only pay for their education but eventually fund many other students through future donations, want to attend a particular college, just let them in, no questions asked.
Simply create a category separate from normal admission so they don't take anyone else's spot. We've got some wealthy kids with rich parents who want their kid at a particular institution. If the school lets them in, they pay lots of money today and much more in the future. This allows the educational institution to flourish. The downside? I suppose all the people who are getting money off the bribery, such as Mark Riddell, will have to find a new way to finance their lives but other than that, I don't see a problem.
The issue is basically that kids like Olivia Jade have always had, and always will have, every advantage in life. They get special tutoring, the best instructors, training at elite institutions, and other perks that less wealthy kids do not. It's reality whether we like it or not. Some of those super-wealthy kids will do great things with the advantages they are given while others will squander them but that's their business.
I know many people will complain about the inherent unfairness of a system such as I propose. Poor and middle-class kids have to work extremely hard under disadvantageous conditions to get the same thing being given to rich kids in exchange for lots of money. I agree, it's unfair. Welcome to life.
Rich kids, children of important people within the academic institution, excellent athletes, and others have always been given far more breaks than those without such connections. It doesn't stop at school either. Such children get better jobs with less effort and receive more chances when they fail.
My point is there is no stopping such behavior so we might as well allow it under a stated structure. Olivia Jade is allowed into USC with all the advantages such an education entails but she doesn't take up a spot some other kid earned.
In the end, as the expression goes, the cream rises to the top. If such rich children are allowed into school along with their poor but harder working counterparts, eventually the one who does the best job will rise the highest. Maybe Olivia Jade will find great success in life but I'd guess someone like Rose Campion will achieve more. In the end, it's up to them. Sometimes having to work harder for something is a good thing, even if it's unfair.
Tom Liberman