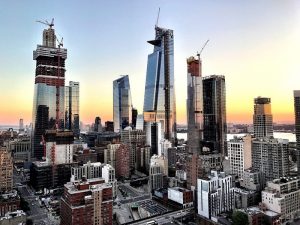 Until I read a fascinating story, I had not heard of something called the EB-5 Visa Program for foreign investors. The idea is simple enough. If a foreign investor pumps $500,000 to a $1,000,000 into a project targeting a rural or poor urban area, their children are given legal rights to live in the United States. What could go wrong? Exactly what you would expect.
Basically, the meaning of jobs being created and poor regions as defined by the EB-5 was stretched so that most of the money went to fund luxury projects in wealthy cities. Districts were drawn to include poor regions but the vast majority of the construction took place in wealthy areas. That along with the fact that some of the developers simply absconded with large sums of money.
Most of the investors appear to come from China and individuals of enormous wealth found a way to invest their money not only with a financial return but also a pathway to United States citizenship for their children.
Personally, I'm not convinced the EB-5 program was created with the best of intentions at all. The politicians back in 1990, when it was implemented, most likely well-understand where the money would go and created a system by which it could flow to wealthy regions while following the loose guidelines of the program.
I'm not even upset the money went to fund luxury projects like Hudson Yards. I'm also not opposed to foreign nationals purchasing U.S. citizenship, which is exactly what is going on despite any arguments to the contrary. What makes me angry is pretending to be doing a good and wonderful thing by helping out the poor in rural regions and urban cities when there was never any such intention.
Some of the money did, in fact, go to projects of the nature for which they were intended but I strongly suspect that would have been the case even if the base purpose of the program was to simply attract foreign investments. When money comes into the United States for various projects it is a good thing. It would be nice if more money was spent to help poor rural areas and poverty ridden urban regions but reality is a tough mistress.
People largely don't want luxury apartments in rural regions or the poor areas of the inner city. However, when a region undergoes development the area around it often improves as well. This reality is the best we can hope to accomplish.
Creating a program like EB-5 with unrealistic expectations of development in rural and poor regions is an exercise in deceit. I'm here to help, said the politician while stuffing their stomach at the trough. My Libertarian sensibilities say, go ahead and stuff your face, but be honest about it.
If the EB-5 program was created honestly, I'm certain organizations like Asian Americans for Equality would have found a way to use that money to help the poor in both rural and urban regions. I'm sure many investors believed they were doing a good thing because the project was under the mantle of the EB-5.
Tell investors the truth. This project is in a wealthy region and this other one is in a disadvantaged region. You decide which one in which to invest. I'd guess you'd have had more money going to the sorts of projects the entire program was designed to fund in the first place.
Tom Liberman