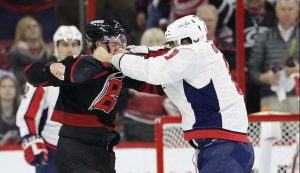 I know most fans cheer on hockey fights and there was a time when I at least tolerated them even if I didn't jump out of my seat and root them on. That time is over. Way past over. We don't tolerate such bare-fisted fighting in any other sport, even boxing and Mixed Martial Arts. We certainly call such fighting assault when it happens in a bar or on the street. It's a crime there and it should be on the ice as well.
The horrific fight between Alex Ovechkin and Andrei Svechnikov in the playoff game between the Washington Capitals and the Carolina Hurricanes illustrates the point. The video that's being seen far and wide on every sports station and most regular news channels shows Ovechkin knocking Svechnikov out with a vicious punch to the face.
I've long been opposed to fighting in hockey and the game itself is slowly coming around to that point of view. There are fewer fights every year in the NHL and that's a good thing. The players are more aware of the dangers of such violence to their future careers and even lives and more and more reluctant to engage in such behavior. All that is needed now is for the league to met out long suspensions for anyone who engages in hockey fights.
Frankly, if you watch a playoff game or even games in the regular season it's filled with players punching one another with gloves on, shoving their fists in the face of other players, grabbing the face of opponents with open palms, and general stick work that is both dangerous and unnecessary.
Listen, I played hockey as a kid. I got into one fight when an opposing player hit me in the neck with his stick. It was exhilarating. I get it. I understand why people like it and why players engage in such behavior. That doesn't make it right.
The reality is that it is not needed. Hockey is a great sport, fast paced, tremendously skilled players, action, and hard checks. The fighting is wrong, plain and simple. I'm not going to get into some logical debate about why trying to punch someone else into unconsciousness, even if both parties are willing, is wrong. It is. That's the bottom line. I'm sick of seeing it and you should be as well.
You can claim I'm ruining the manly nature of the sport. Call me a wimp and a loser. I don't care. Hockey fights were wrong back then and they are wrong today. Let's put an end to them once and for all.
Tom Liberman