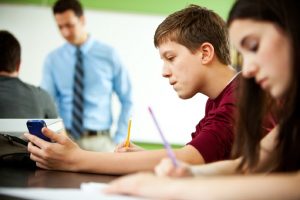 Educational systems in the United States and all over the world are roiling with the constant reality of students on phones. From grammar school to college teachers, parents, administrators, and even law-makers are wrestling with the problem. It seems to me that the knee jerk reaction to students on phones is to take the phones away. I disagree.
The basic idea is students on phones are a distracting element taking away from the learning process and therefore the trend must be countered. Certainly, it can be argued cell phones are a useful tool in school for a number of reasons but the reality is students do get distracted while on their phone. It is within the purview of administrators and teachers to make rules about students on phone in their schools and classrooms. Being on a phone is not a constitutionally protected right so the state has the right to pass laws as well, that doesn't mean it's a proper thing for them to do.
It's my opinion that each teacher should be allowed to make the rules in her or his classroom. Teachers are closest to the situation and can make the best determinations. Not to say all teachers are fair and equitable in their decision-making process. I've written about unfair teachers before so I'm under no illusion in that regard.
Now I'll get to the point of this article. Were it my classroom, I would have no restrictions on students on phones. Believe me when I tell you I paid little or no attention to my teachers back when dinosaurs roamed the earth and we didn't have cell phones. You can't make a student pay attention if she or he does not want to do so.
The final arbiter of learning is test results. Should we punish students who don't seem to be paying attention but get high scores while rewarding students who seem to be listening to every word but get lower scores? That's the fundamental question that goes far beyond the schoolyard and into our everyday life. We must value results more than perceived effort.
It's true that students will be distracted by phones and miss out on lesson content but you cannot convince me the same student would have paid attention without a phone in her or his hand. That's the reality of the world. The onus is on the teacher to make the lesson interesting and engaging for the student. I'm not living in a fantasy world in that regard either. I know some students won't pay attention no matter how hard the teacher works.
We cannot control how people learn or even if they learn at all. We must trust the individual to do the most with their own life despite our inclination to the contrary.
Tom Liberman