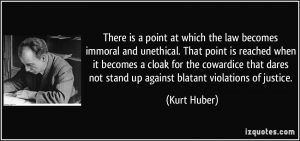 I just read an interesting article that illustrates the hidden immorality associated with medical costs in this country. In Alabama primarily but other states as well, the sheriff's office is required to pay for medical expenses of inmates. The cost is so prohibitive the sheriffs simply release the inmates, often dragging the hand of an incoherent prisoner over a release form, before sending her or him off to the hospital.
Do the sheriffs in question know this is an immoral action? Of course they do, but what other choice is there? If an inmate suffers from a serious illness the cost of care could be more than the entire department's yearly budget. That's the reality of high medical costs in this country. The problem spreads its vile tentacles into so many aspects of our lives it's difficult to truly comprehend the horror it creates, not only for patients, for their families, but also for the people who are trying to care for them, including the sheriffs.
I absolutely guarantee you sheriffs don't want take prisoners who look like they are getting ill, drive them to the edge of town, and dump them on the street. The reality is painful but true. Why is this happening? Because so many poor people don't have insurance. Why don't people have insurance? Because medical care can be an enormous expense and insurance companies don't want people who have illnesses on their plans.
The trickle up effect is that sheriffs, counties, states, and the federal government are stuck with enormous bills they cannot easily pay, just as are patients. The result is that people are not getting treatment because it costs too much and that creates vast suffering, a hidden immorality of high medical expenses.
Do you think a law enforcement officer goes home and tells her or his friends and family about how wonderful it was to help a nearly unconscious inmate scrawl their signature on a release form so the county could save money? I don't. I think the officers hate themselves for having to do it because the act is unethical on its face. Yet it is happening over and over again. That's the hidden immorality that our nation is facing.
I've written about the underlying problem, an aging and unhealthy population, before so I won't go into details here. There are certainly no easy solutions but I think it's important to understand how medical costs create a hidden immorality far beyond the people who get sick.
Tom Liberman