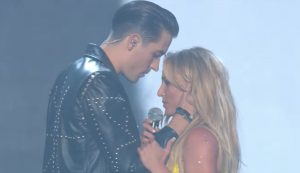 I'm an old man, 52, and I don't keep up with the hip and happening culture of young people all that much but a story from the Video Music Awards (VMAs) that is hitting all the news outlets today peaked my interest. I haven't yet watched the incident in question but I think I've got a pretty good handle on it from reading the news accounts. Singer Britney Spears was on stage with fellow musician G-Eazy. To my credit, prior to reading this story, I'd heard of one of them!
Anyway, they were performing and apparently engaged in some suggestive sexual activity. It went as far as Spears grabbing G-Eazy's crotch, his penis for those of us who prefer to not to mince words, and he caressing her face while looking deeply into her eyes. Then G-Eazy went in for a kiss which Spears rebuffed with a firm shake of the head. The performance went on.
Why does this interest me? Because it's a really good example of not only standing up for yourself but respecting other people's desires and actions, on both sides. Certainly Spears invited further activity when she touched G-Eazy in such a way. His desire to further the sensual aspect of the show with a kiss is perfectly understandable. Spears acted in a way in which it was more than reasonable to think she might want a kiss. Spears did not want it and firmly said no. She has not, to my knowledge, claimed the G-Eazy was a product of the so-called Rape Culture. She hasn't denied that her actions certainly led G-Eazy into his actions.
On the other side, G-Eazy took the firm shake of the head for a definite no and moved on. He hasn't, to my knowledge, called Spears a tease or claimed she led him on and then left him stranded. He hasn't complained.
We don't always know what the other person wants in this world. Sometimes the other person doesn't know her or his self. In many situations we are undecided until the last moment. That's no reason to lay blame. A man who thinks a woman is interested and pursues is not part of any rape culture, he is a normal man. A woman who acquiesces and participates in a certain level of romantic behavior is in no way obligated to take it further. She is not a ball-buster. She can say no at any time, as can a man in reverse situations.
People often misinterpret the actions of others and act in unwelcome ways. When that happens simply firmly and clearly tell the other person that such behavior must stop. That's the lesson.
When you are the person who is told to stop, stop.
That's not going to solve all the world's problems and some people are simply jerks who will try to pressure other people into doing things they don't want to do and sometimes take things to a violent level. I'm not saying a firm no will stop everyone. I'm just saying it's the correct first step.
G-Eazy behaved in a perfectly reasonable way as did Spears. Everyone came out of it just fine.
Tom Liberman