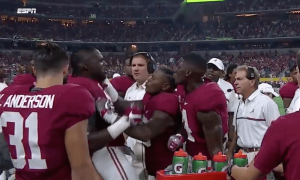 Technically the headline from For the Win at USA Today was accurate but I'm going to go ahead and call it my Misleading Headline of the Week anyway.
Nick Saban blames USC for heated exchange between Alabama players reads the headline. The implication is that the head coach of Alabama was accusing the players of USC for starting some sort of incident. Saban actually went out of his way to make it clear he wasn't blaming the USC players.
There was a lot of trash talking going on from the other side, that's OK. That's their choice. They can do whatever they want. I'm not being critical of that.
Basically what happened is two Alabama players were trying to calm down a teammate, Ronnie Harrison, who was reacting to the trash talking. That caused a heated argument between the players. Harrison has reportedly apologized to his teammates.
Now, technically the headline is correct. Saban did suggest that the incident started in reaction to some trash talking by the USC players. But his point was that his own player was at fault for letting it get to him.
I don't think it's the worst misleading headline I've ever read but the impression I got was that Saban was blaming USC for the problem which he was not.
Saban's final quote really sums it up. When you have a teammate who cares about you and is trying to help you, the response should be 'Thank you,' not 'Screw you.'
Tom Liberman
Sword and Sorcery fantasy with a Libertarian Ideology
Current Release: The Gray Horn
Next Release: For the Gray