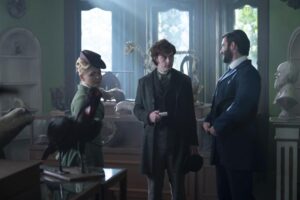 I'm not a big fan of Miss Scarlet and the Duke but the second episode of the new season almost got it right. It was tantalizingly close to Wokeness done properly but failed in the end. Such a shame.
The show is clearly a vehicle to display a strong woman as the lead character. Miss Eliza Scarlet, played by Kate Phillips, is the titular character and the self-proclaimed only female private detective in London.
Just because a show wants to display a bit of Wokeness doesn't mean it's going to be bad. I've written several times I consider myself a member of the Wokeness clan. Several of my novels involve female leads. There's nothing wrong with wanting equality in society but I'm also a fan of good entertainment and Miss Scarlet doesn't quite make it there.
The Wokeness Plot was Good
This episode of Miss Scarlet involved Eliza investigating the theft of a Charles Darwin sketch from a museum. The museum in question being owned and operated by a woman. Things get strange when it turns out someone placed an advertisement in the local paper offering an enormous reward for the sketch before it was even stolen and requesting applications be put to Miss Scarlet.
The Estranged Husband
Miss Scarlet investigates the estranged husband of the museum owner who is played as an over-the-top jerk. This is one of the big problems with portraying Wokeness improperly. The unwoke, for lack of a better term, are overly one-dimensional, caricatures. They are so dumb, so angry, so ridiculous that it becomes impossible to take them seriously.
Instead of making the man so simple; why not give him some nuance? He is jealous of both his mother and his wife's successes. That's an interesting idea. His mother was apparently an Egyptologist who didn't get credit for her work. The problem is we don't find out about all this until the very end of the episode.
Eliza following the moth into the hidden chamber was a ludicrous way for the audience to learn about this critical information. Why can't mom simply mention her past in conversation during the investigation? Why not have the husband gently chide his mother, "Nobody wants to hear about that old news" or something like that. That's an organic method of displaying the subtle way in which women and minorities are treated unfairly, to genuinely show why Wokeness is important.
Waste of Time Red Herrings
A huge amount of time was spent tracking down art thieves and forgers. Several scenes involved Miss Scarlet, standing out like a sore-thumb, under-cover and following a master forger only to be saved at the last moment by the Duke. Why? It just wasted time. The real Red Herring was the husband stealing the sketch because of feelings of inadequacy compared to his wife and mother. That's the story! That's the Wokeness we needed.
More Time Wasted
The young detective, son of the commissioner, took up a huge amount of time and energy. When you've got forty-five minutes to tell a story, you absolutely can't waste time like this. Every scene is important. The story was the husband's jealousy. That's the Wokeness angle and it's a good one. We just didn't explore it properly. We didn't get nuance, we didn't get interesting characters, we didn't learn anything useful about why he felt this way.
The Ending
I found the conclusion wholly disappointing. The mother's plan didn't really make a lot of sense but with a few tweaks it might have done so. The entire anagram business seemed contrived and how did the sketch get into the bust?
That being said, the basic concept of mom wanting publicity for her daughter-in-law's museum and Miss Scarlet is a great idea. A woman who went out and challenged the world but didn't get the credit she deserves. Now she's trying to help other women. It's fantastic, it's real, it's visceral Wokeness.
Conclusion
This episode had so much potential but in the end, it largely failed, for me at least. That's a shame because it feeds the anti-wokeness mob. Why not focus on the husband's jealousy? Have him come to some realization at the end about his mother, his wife. That's an arc, that's a story, that's good entertainment.
So close, yet so far.
Tom Liberman