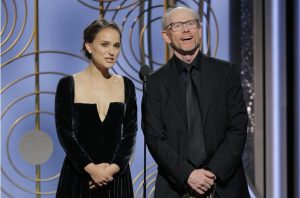 During the recent Golden Globes award ceremony Natalie Portman and Ron Howard presented the award for Best Director of a feature film. Portman announced, "And here are the all-male nominees." I think she was being unfair and incomplete.
If she had mentioned what she thought was a worthy film directed by a woman, there are certainly several choices this year, and which male directed film she would have left off I would say that at least her speech was complete if still unfair. The dig was unfair to all the nominated men because they had nothing to do with their selection. The statement certainly implies that some, if not all, of them didn't deserve the nomination. The winner, Guillermo del Toro, might have responded during his acceptance speech but instead he took the high ground and gave an emotional speech about how much of his heart he poured into the move; The Shape of Water. He was the better person than Portman, in this case.
I certainly think there is a point to be made that some of the films this year directed by women were equally deserving of nomination, I just don't think that Portman chose a good time for her nasty comment. It was nasty, true or not, you cannot deny her statement devaluing the award one of the directors was about to receive was anything else. You might well support Portman for making the statement and that's fine, but it was rude, nasty, and unfair.
It was, to some small degree, exactly what she was complaining about. She essentially attacked a group of men for the single failing of being a man. It was sexism. Certainly, it was not an egregious attack. She didn't threaten their livelihood or physically assault them. They will go on about their lives pretty much as before. I don't think a crime has been committed. I don't think Portman should be blacklisted from Hollywood for her actions. I don't think she should be denied a chance to participate in the making of future movies. I just think it was nasty and rude. I think she owes the five directors an apology. I don't expect she'll be making one.
She is largely being lauded for her bold statement. Most of the articles I've read on the subject seem to think she did the right thing in calling out the fact that all five of the nominated films were directed by men. I disagree.
The statement she should have made, in my worthless opinion, is to refuse to give out the award. If she feels strongly there was a miscarriage of justice then she should simply have refused to participate in the ceremony. That I would have respected. But the reality is she wanted to be up on that stage giving the award, she wanted to have her cake and eat it too. And she is apparently getting that wish, at least from everyone except me.
Tom Liberman