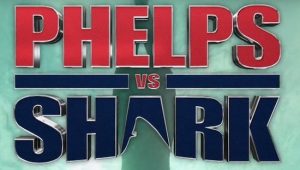 To call people disappointed by the Michael Phelps versus Great White Shark race is a little bit of a misnomer. They aren't disappointed, they feel cheated, and well they should. Phelps did not actually swim against a real shark but instead a simulation. What's the result of all of this? Everyone loses.
I'll start by saying I didn't actually watch the event myself but I did see some of the promotional material. The first question I asked myself was: How's that gonna happen? I mean, you can't have them next to each other in the pool and getting a wild animal like a shark to toe the line and start at the right moment is going to be near impossible. There's got to be some kind of trick, I said. It can't be real.
Sure, many people could have figured out there were going to be some shenanigans but that doesn't mean the event shouldn't have been more clearly promoted. In addition, the show went on for quite a while, almost an hour, before the actual race. This means people used their valuable time waiting for something that never actually happened. To my way of thinking, this borders on and possibly crosses into the criminal realm of fraud.
What's an hour of your time worth? Do you suppose people gathered friends to watch the event at various parties? That fans of Michael Phelps were intrigued enough to plan their Sunday around the show? I can even imagine some marine biologists were intrigued by the idea and wondered how on earth they were going to get the shark to run through a prepared course. I know I was thinking about how they might have treats, read raw and bloody flesh, at the end of the pool to entice the animal.
I was intrigued by the advertising campaign. I wouldn't have spent as much time thinking about the race if I was not at least partially captivated. I certainly didn't suffer damages. I'm also not advocating any lawsuits, although they might be justified.
The Discovery Channel clearly made it appear as if Phelps would be racing a live shark. He did not. I think those who expected to see Phelps race a live shark are certainly losers in all of this. The show attracted far more viewers than it would have if the event had been advertised truthfully. That seems to indicate the Discovery Channel won. They got advertisers to pay for the event based on expected watchers.
The reality is more difficult to parse. Certainly, any event the Discovery Channel promotes from here out on out is going to receive far more scrutiny. The network will not be able to point to ratings from this event as a price point for future such races. Advertisers will be wary and rightly so.
Will the public remember this fiasco when next Discovery Channel next tries to host such a race? I'm of the opinion they will. This hype was so overdone and the actual event so underwhelming that people will remain skeptical of the channel for many years to come. I think, despite the undoubtedly high ratings it garnered, the network is also going to end up losing.
If only they had managed to deliver a satisfying experience. Then we'd all be winners. Instead, just the opposite.
This brings me to my final Libertarian point. If the Discovery Channel had strived to make an excellent experience, we all would have been enriched. The network, the viewers, and the advertisers. More such events would even now be in the planning stages. Now, because they provided a cynical product, we all lose.
Tom Liberman