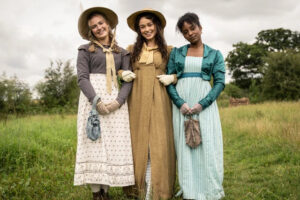 Sanditon wrapped up its three years run the other night and Charlotte finally got her man. I'm fairly certain most people will be happy with the largely treacly finale but I can't say I found it overly enamoring.
I doubt I'm the main audience for Sanditon and therefore the fact I didn't really enjoy the sweet and happy ending will probably not come as a big surprise. That being said, my main problem with the third season of Sanditon was the lack of continuity. Let's get into it.
What Happened
What happened? Too much happened to be honest. There were two many characters and too many stories; meaning no one really got enough screen time.
Let's cover all the romances and pseudo-romances. Charlotte and Ralph. Charlotte and Alexander. Alexander and Lydia. Lydia and someone we never meet. Arthur and Harry. Harry and Miss Lambe. Miss Lambe and Otis. Edward and Augusta. Lady Denham and Mr. Pryce. Lady Susan and Samuel. Dr. Fuchs and Beatrice. Oh my god. Stop! Please! Cupid, leave the set! Enough!
Mary Parker almost died but then miraculously recovered. Miss Lambe's mother appeared, disappeared, and reappeared. The town was saved from the evil money-grubbers and the children have roofs over their homes.
Continuity Issues
I spoke about this in my previous reviews of Sanditon and it reappears constantly throughout this season. People move from place to place as if they have access to the Enterprise and transporters. Charlotte is having a conversation in Sanditon one moment, at Mr. Colbourne's estate the next, and back on the beach a moment later. It happens for all the characters, all the time.
The worst offense was Mr. Pryce and Tom Parker. At one point they cancelled all their plans. Then came five scenes where they discussed with other people the continuation of those plans. Finally, at the end, they came together by accident and settled their differences. The settling needed to come before five other scenes.
In my opinion, the problem is largely with editing the scenes. Someone stitched them together completely out of order. People jump from place to place so rapidly I feared whiplash.
Happy Endings
For those yearning a happy ending, you largely got it. Only Edward, played outstandingly by Jack Fox, was left alone. His story didn't make a ton of sense of me anyway. If he loved Augusta, why not take up Alexander's offer to court and marry her properly? Anyway, not a big deal.
Miss Lambe ended up with Otis, whose gambling problems certainly won't recur. Charlotte ended up with Alexander, the white-hot heat of their passionate screen chemistry forcing me to put on a sweater as I watched. Lady Susan and Samuel ended up together which was fairly nice. And finally, the romance I actually cared about, the one that garnered my interest, intrigued me, made me believe: Dr. Fuchs and Beatrice got together! Hoopa. I'm not even kidding. That's the one relationship in this show with which I found myself invested.
Conclusion
It's not bad by any means. I just got bored. Not my cup of tea as they say across the pond.
Tom Liberman