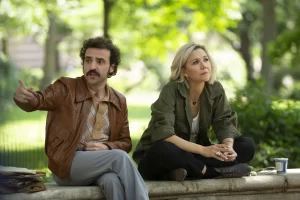 In a show called The Deuce a former prostitute gives a ten thousand dollar blow job and it feels very dirty. I found my disgust at the situation interesting because a few episodes before she'd been performing the same service for twenty dollars.
How, you might ask, can a ten thousand dollar blow job be worse than one provided for far less money? Let me try to explain and you can tell me if you agree.
The Circumstances of the Ten Thousand Dollar Blow Job
Eileen, played superbly by Maggie Gyllenaal, has transitioned from her job as a Times Square hooker to making pornographic movies. She finds herself in Los Angeles for an awards ceremony and tries to sell her idea for a new movie based on the Little Red Riding Hood story.
The money-man is willing to help her with a check for ten thousand if she performs the aforementioned sex act on him while he writes the check. She clearly doesn't want to do it but in a moment of self-reflections gives in. Later she stares at the check and smiles. It's certainly the most she's ever been paid for performing in such a way.
The Twenty Dollar Blow Job
When Eileen, or Candy as she called herself in those days, worked the streets she often gave blow jobs for twenty dollars. Men approached her or she flagged them down and that was that.
What's the Difference?
What is the difference? That's a good question. It was clear in my mind the ten thousand dollar blow job was worse. I knew it. Then I had to figure out why. Candy wants money. Eileen wants money. Men have the money and they want blow jobs.
Candy's job is to give blow jobs. Eileen's job is to make movies. Does Candy like her job? Does Eileen? We can argue perhaps she does not. It can be argued she likes one more than the other but the reality is we don't know. Would she rather be doing something else for money?
The Difference
To me there is one important difference between Candy and Eileen. Candy's job is to give blow jobs. Eileen's job is to make movies. If the producer wanted a blow job, he could easily find a girl for far less than ten thousand. He used his position of having money and power to coerce Eileen. She didn't come to him offering a blow job, she came to him with a good idea for a movie. He got his sick jollies by making her do something she didn't want to do.
I think it's not difficult to argue Candy doesn't really want to give blow jobs either, that men use their money to make her do something she doesn't want to do. The difference is she's made the decision to give the blow job and men who see her on the streets know why she's there.
The producer knew why Eileen was there. To make a movie. If he thought she was going to make a good movie then he should finance it.
Conclusion
It's akin to your boss making you bark like a dog in order to get your paycheck. You're there to do your job, not bark. Sure, you probably don't want to do your job all that much but you signed up for it. That's why you get paid.
The reality is the world is filled with people like the producer. They enjoy feeling superior to others. They use their money, or some other incentive, to coerce people into behaving a certain way. It's wrong, it's sick, but it's reality.
Not everyone has the wherewithal to tell people like that no. Not me. Not this time, bub. It'd be nice if the world didn't have people like the producer.
Stop coercing people.
Tom Liberman