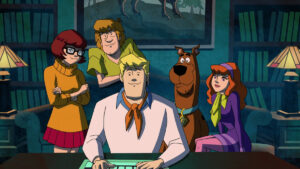 I'm following the reviews and general hate for the new Scooby-Doo animated show and it brought to my mind how interesting are the characters. I watched Scooby-Doo back in the day although I can't say I was a huge fan. I found the show pretty formulaic and boring after a few episodes.
That being said, the characters are interesting and writer Tom, that's me, started thinking about how I might portray the gang as youngsters, before they became Mystery Inc.
If you're here to read yet another hate-review then best move along. I'm not going to talk about the current show as it exists, but how I might do it.
The Scooby-Doo Characters
I find the friendships between the characters quite interesting. Fred is a stereotypical dim but handsome jock. Daphne is the beautiful prom queen. Velma is the intelligent, nerdy girl. Shaggy is the stoner. Scooby is Shaggy's loveable dog. How did such a diverse group become friends?
Early Relationships in Tom World
If this was a Tom Liberman production, I'd start off with them in their separate high school worlds. Fred and Daphne still in the same circles after a failed relationship. Both of them popular kids, consumed with sports, status, fashion.
We'd find Velma perhaps playing Dungeon and Dragons with the other nerds and in the advanced classes being a teacher's pet to the annoyance of the other students. Shaggy perhaps once a promising young man introduced to marijuana and beginning to spiral into a haze.
How do we get them together? What propels their various arcs?
The Beginnings of Mystery Inc.
It's obviously got to be a mystery of some sort. There are plenty to be found in the high school milieu. We don't necessarily have to make them supernatural in appearance. It's not necessary to keep the same structure as the earlier shows, this is a reimaging, so let's use our imagination.
Perhaps a teacher's gradebook was stolen and Velma and Fred are in danger of getting a bad grade. Something to get them together to solve the mystery. It's a modern show so we are not tied to the episodic nature of the earlier show. We can have one main mystery cover the entire first season. Of course, there will be smaller crimes to solve along the way in each episode. Infidelity in the teacher's lounge. Pay for grades scandals.
We can use Fred and Daphne's failed relationship to make them antagonistic at the start, lots of references as to what broke them up, did he cheat? Did she cheat? Was it a misunderstanding? Plenty of material for conflict.
We might discover Shaggy was once an A student but his grades are falling off. Perhaps he has an absent parent, his mother is an alcoholic, something along those lines. The perils of genetic predisposition. Velma is under intense pressure from academically outstanding parents. Even a single B brings their scorn.
Anyway, the four discover they have some unexpected things in common. Breakfast Club style.
The Season Moves Along
Certainly, friends of the four protagonists are not going to like this change of dynamics. Not just the popular kids wondering why Fred and Daphne are now hanging out with the nerds but the other way around as well. Why is Velma, the pretty girl at the Dungeons and Dragons club, now hanging out with that jerk Fred?
There can be side-plots involving friends of the four trying to break-up them up. Sabotage. Lies. Teen angst. Lots of good material there.
How did Shaggy acquire Scooby-Doo? That could be an entire episode in itself. A lost dog wandering to school finds Shaggy stoned in the basement. Shaggy has to care for the beast, leaving his dope behind.
End of the Season
The mystery is solved. Is it back to social normal? How do the four feel about each other when they're not solving mysteries? How do old friendships compare to the new? Daphne realizing her old friends were backstabbing her. Velma sees the jealousy toward her new popular friends and realizes Fred and Daphne aren't the terrible people she imagined.
Throw in some sort of setup for the next year with a new mystery unveiled.
Conclusion
I'm not going to go on a rant about the failures of the new show, plenty of other are doing so. Nor am I going to tell everyone my ideas are wonderful and amazing. I find the characters interesting and worthy of exploration. It's as shame the new show apparently is doing a poor job of it.
Tom Liberman