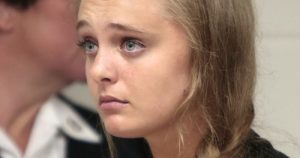 The case of Michelle Carter has begun and it presents interesting questions for a Libertarian. Carter essentially encouraged and cajoled a man named Conrad Roy into suicide. He was feeling suicidal to begin with but in a series of texts over numerous days she pushed him to do it, despite the fact he was clearly reluctant and afraid.
I'd like to dispense with the fiction that Carter somehow thought he was not serious about his intentions or that she didn't actively attempt to bring about what she desired, Roy's death by his own hand. Anyone who reads the messages must come to the conclusion she wanted Roy to kill himself. We can only speculate as to why she wanted this outcome but that she wanted it to happen is beyond debate.
Without a doubt, we can conclude she is a failed and disgusting human being. But is she a criminal? She didn't take any physical part in Roy's death. She did not even purchase any of the equipment he used to kill himself. She took no direct actions that caused his death. She simply told him, repeatedly, that his family would be fine, that his problems would be over, that he would be in heaven, and that suicide was clearly the best and only solution. When he promised to do it and failed, she chastised him for his shortcomings and encouraged him to finish the job.
When the fact of these texts came to light, Roy's family alerted the police and now Carter has been charged with Involuntary Manslaughter. Essentially, she is being charged with killing Roy.
Therein lies the problem. Carter didn't kill Roy. She just encouraged him to kill himself. Roy was clearly vulnerable to such manipulations but there is no indication he was mentally handicapped. He was of legal age when he killed himself and of relatively sound mind. He clearly wasn't thinking very well and was manipulated by a terrible person. I freely acknowledge as much. But he was not legally impaired. As such, Roy is ultimately responsible for his own actions.
People want to punish Carter for her reprehensible behavior and I well understand this desire to make her pay for her actions. She is a horrible person. She deserves a punch in the face at the very least.
Sadly, I don't think she should be put in prison for her actions. While she certainly encouraged Roy to kill himself, Carter took no concrete actions in making it happen. It's largely the same as if I said I wanted someone dead. It's a horrible thing to say but I haven't actually killed anyone. I can talk about committing all sorts of crimes but it is only when I take physical action toward committing those crimes, or actually proceed, that I'm subject to law enforcement.
If Carter is found guilty of the crime it has rather far-reaching implications. Anyone who encourages anyone to commit a crime might well be charged. Saying something in Social Media about wanting President Obama or President Trump to burn in hell could well encourage a lunatic to attempt murder. There are plenty of fanatics out there and they don't need much encouragement.
The important reality is that we must be held responsible for our own actions. In this case Roy is dead and that's a terrible shame. Carter is a nasty piece of work and one would hope people will shun her in the future, but it's not up to me or the courts to force punishment upon her.
Tom Liberman