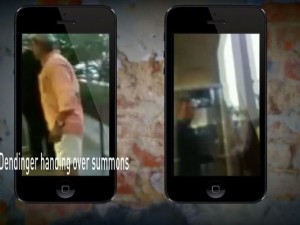 I read a lot of stories about abuse of power from law enforcement officials in the news these days but this one ranks near the top. A fellow named Douglas Dendinger served a summons concerning a police brutality case involving his nephew.
The police officer, two prosecutor, the police chief, and three other witnesses described the handing over of the summons as a physical assault. Written testimony from multiple witnesses stated clearly that Dendinger assaulted the officer in the course of serving the summons. Dendinger has a prior drug conviction.
I want you to imagine the comments you might have made with just that information. What you might have thought about the story right at that moment. The police chief and six other witnesses accused a convicted drug user of assaulting an officer. It's impossible they're all lying. The guy is a convicted felon. The case involved his nephew.
I wonder how many times this exact same scenario has occurred all across this great nation of ours? There's something new today. People have phones and can easily take video. I think you know where this is going.
The case finally got tossed out of court when the prosecutor's office was forced to recuse themselves and the state took over. With the case dismissed Dendinger is now free to discuss the events in public. There is video. The police chief lied. The officer lied. The lawyers from the prosecutor's office lied. Dendinger handed over the summons and walked away.
I want you to think about this case the next time you blindly support police officers against suspects. I'm not saying all police officers are bad. But when the bad officers are supported by the good officers we are all in trouble. The entire system may not be broken but it's not working properly anymore. It is my opinion that good police officers are being driven from the force because they won't go along with this sort of thing.
This antagonistic relationship between law enforcement and citizens is driven by the War on Drugs. The fact that municipalities increasingly rely on Seizure Laws to finance not only the police department but the entire city government. For all those great police officer out there; be aware that I'm not trying to attack you, I'm trying to save you!
This must stop. Police must return to Protecting and Serving, not intimidating, stealing, and using their position of power to attack anyone who dares question their authority.
When the citizens of this nation no longer trust the police force the entire country is in danger. We're not there yet but it's not good out there.
End the War on Drugs. Write the seizure laws off the books. City Hall finance your police department with what they need not the other way around. This is serious business.
Tom Liberman
Sword and Sorcery fantasy with a Libertarian Ideology
Current Release: The Black Sphere
Next Release: The Girl in Glass I: Apparition