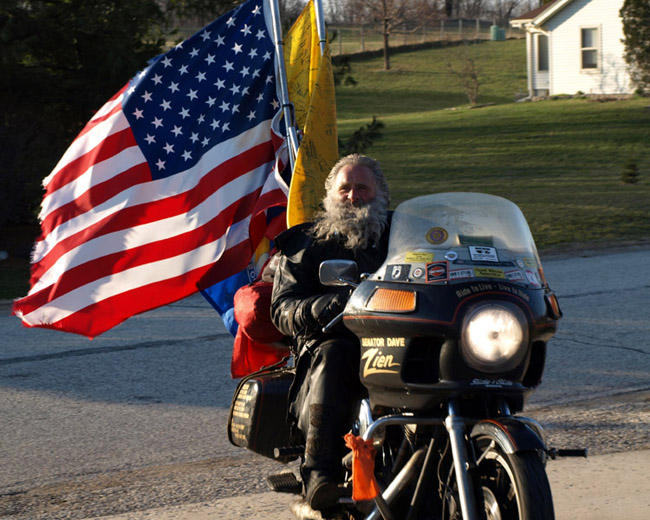 I'm probably going to get some grief for this post but I'm sick and tired of people waving patriotic symbols all over the place and claiming that this somehow makes them patriots. It doesn't. Wearing a flag lapel pin doesn't make you a patriot. Saying the Pledge of Allegiance loudly to anyone listening doesn't make you a patriot. Waving flags everywhere you go doesn't make you a patriot. Standing up during the National Anthem doesn't make you a patriot.
The reason I bring this up is because there is a story making the rounds about how the awful and evil Harley Davidson is denying the warranty claims of David Zien because he flies United States flags (and other flags) from the back of his bike while riding. Zein who, it must always be mentioned prominently, served as a state senator in Wisconsin, filed the claim after his clutch and transmission failed.
Harley Davidson suggested to Zien that riding down the highway for thousands of miles with seven large flags mounted on his motorcycle voided his warranty. Great Patriot that Zien is, he went straight to Fox news to whine and cry about how a wonderful patriot like him was being abused by the awful, hateful Harley Davidson.
Why is it that those who most loudly and zealously yell about patriotism and personal responsibility are the ones who show it the least? Because they're Flag Wavers. It's not a compliment. It's an insult to the real patriots of this country who go about their business and don't feel the need to tell everyone how wonderful and patriotic they are. Those patriots I stand up and salute.
Zien served in the Marines during the Vietnam war and deserves our respect for doing so. That being said, I respect a man's actions, not what flag he chooses to fly. Zien chose to ride down the highway with large flags which is an extremely dangerous thing to do. He paid the price for that decision in a horrific accident. Now he has to pay for a new clutch and transmission.
It's called personal responsibility.
Tom Liberman