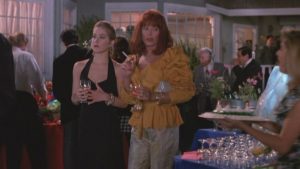 I was out and about the other night and an attractive woman sat next to me with her date. During the course of their conversation, to which I was listening vaguely, she mentioned a Christina Applegate movie about babysitting and it reminded me of an underrated gem. Don't Tell Mom the Babysitter's dead. So, of course, it's time for a Libertarian Movie Review.
In the movie Applegate's character, Sue Ellen, is the eldest of five siblings left home under the care of an elderly babysitter while her mother takes a summer vacation to Australia. Trouble ensues when the babysitter dies and the teens have no money to support themselves. Rather than call their mother they decide to try to make it on their own.
Sue Ellen has aspirations of a career in the fashion industry but takes a minimum wage job in fast food. She soon quits because she is being treated horribly by a manager. She then creates a false resume hoping to get a job as a receptionist at a fashion house. Impressed by the resume, a company executive hires Sue Ellen as an assistant.
Sue Ellen excels at her job and impresses her boss although also gains the enmity of a jealous co-worker. Meanwhile her marijuana obsessed brother is forced to feed the family on a small budget and finds that he loves cooking.
Eventually Sue Ellen ends up hosting an important fashion party for the struggling company. Her stoner brother provides an elegant dining experience while her younger siblings help as best the can.
In the end she is found out by her conniving and less competent co-worker and also the return of her mother. Rose, the executive played by Joanna Cassidy, is not dismayed and offers Sue Ellen a permanent job. Sue Ellen refuses but is promised by her now former boss help in gaining admittance to a prestigious college.
Meanwhile her brother and other siblings all gain by the experience and become the better for it.
From a Libertarian perspective there is a lot to like about this movie. Sue Ellen wants a career in fashion and refuses to settle for a fast food job with a terrible manager. She lies on her resume and aims high. Once on the job she solves problems creatively and effectively despite sabotage from a co-worker. Her brother is wasting his life smoking marijuana but stumbles upon a career that peaks his interest and goes for it with as much gusto as Sue Ellen. When Sue Ellen is discovered she admits her guilt to all and is willing to accept the consequences.
Finally, and I think in one of the most important scenes in the movie, when Sue Ellen is found out by Rose all is not lost. Certainly Sue Ellen did wrong by writing a false resume but once in the position she achieved astounding success. Rose recognizes this and does not punish Sue Ellen. She instead rewards her.
Had Sue Ellen failed at her job then punishment is certainly deserved but, in this case, she did not. Sue Ellen took a chance, broke a rule, and found tremendous success in a field she loves. She also helped her brother find his way and her younger siblings as well.
I give it a rating of Five Freedoms. A hidden gem worth watching by everyone, not just Libertarians.
Tom Liberman
Sword and Sorcery fantasy with a Libertarian Ideology
Current Release: The Gray Horn
Next Release: For the Gray