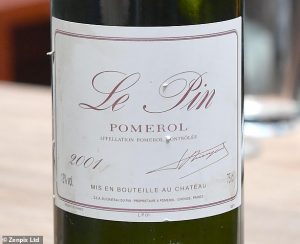 There's an interesting story making the rounds about a bottle of wine called Chateau le Pin Pomerol 2001 sold at Hawksmoor restaurant in Manchester, England. The Chateau le Pin Pomerol is a rare wine; a customer ordered a $300 bottle of a similar vintage but a mistake led to said customer being served the Chateau le Pin Pomerol which lists at $5,772.
That's a significant loss for the restaurant although the price they charge is certainly less than that listed. In response, the restaurant put out a tweet expressing hope the customer enjoyed the finer vintage. They also explained the two bottles are quite similar and an employee made an honest mistake on a crowded evening.
I think this is a good chance to explain a subtle nuance in Libertarian philosophy; which many people mistakenly think is all about earning more money, even many Libertarians themselves. It's not about the money even though money is used as a scorekeeper to some degree.
The owners of Hawksmoor had a choice when they found out about the mistake. They could have attempted to charge the customer the difference. They could have docked the wages of the employee for the mistake. Both of these actions would seem to fit in with the perceived Libertarian philosophy of making as much money as possible.
The reality is, naturally, quite different. What is in the enlightened self-interest of the Hawksmoor? Alienating a customer or losing presumably a good employee? Certainly, the media coverage they get for accepting the mistake and wishing all parties well is worth more than the loss garnered by putting out the Chateau Le Pin Pomerol. It seems quite obvious to me their actions will not only result in more revenue in the long run, but even this is really not enlightened self-interest.
The real beneficiaries of this acceptance of the mistake are not the employee and the customer but the owners who made the decision. I cannot say for certain why management decided to behave in such a way but I'd like to think it is because they respect themselves.
A mistake was made, it happens, I understand that I also make poor decisions, that my errors affect others in negative way both personally and financially. One of my loyal customers got an amazing treat and I'm happy for them even though it cost me some money. My employee probably feels terrible about what happened and piling on isn't going to make her or him a better person. A pat on the back and an understanding smile makes the world a better place and me a better person.
It seems to me many people are eager to lay blame, to lash out loudly against the stupidity of those who disagree, to attempt to gain retribution against those who make mistakes, to emotionally punish and hurt anyone who dares disagree. All of these actions make you a worse person. They tear you down because you know, somewhere deep inside, how awful you are being.
Being a decent human being is enlightened self-interest and so was smiling at the mistaken bottle of Chateau le Pin Pomerol 2001.
Tom Liberman