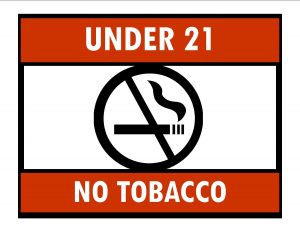 Senators Mitch McConnell and Tim Kaine are co-sponsoring a bill to increase the federally mandated age for people to purchase tobacco products and e-cigarettes to 21. It has bi-partisan support and is being done to protect the children so I expect it will pass. You'll not be surprised to find I oppose such legislation.
I could talk about how e-cigarettes are not even a tobacco product by nature or how the federal age to purchase is already 18, the age at which we become legally adults. Instead I want to focus on the idea the federal government should have no control at all over what we voluntarily put into our bodies.
I can hear you now: but, Tom, it's to protect the poor, innocent children. The federal government must save them from the terrible scourge of tobacco. They are too young to make a decision for themselves. They will ruin their lives if the federal government doesn't step in to save them. You can't be against saving children? Do you want children to die? Are you a cruel, heartless, child-murdering monster?
No, I'm a Libertarian. The Constitution of the United States grants the government certain powers and they do not have any outside those as decided by the courts. The Constitution is also quite clear about who has these rights. The Tenth Amendment to the Constitution declares explicitly that powers not delegated to it are for the States and the people to decide. Whether or not your child buys an e-cigarette or any form of tobacco is up to you to decide.
It seems so simple to me. If community wants to prevent a store from selling such products to people under 21, the local politicians can pass an ordinance to that effect. If they do so and the people are unhappy with that decision, they can make their opinions known in the next local election. If the state makes such a law then the municipality can counter it with a law allowing such merchants to sell e-cigarettes and tobacco products within the jurisdiction of their city.
There are specific limits to the Constitution of the United States and if the federal government is not granted the ability to pass a law in certain regards, then it falls to the States and to the people. It seems obvious to me that the entity closest in relation to the effect of the law should have precedent. This gives the greatest control to the people, where the framers largely wanted it.
Frankly, there should be no such law at all. If someone wants to purchase e-cigarettes or tobacco products it should be up to the local merchant if they want to sell them or not. If the people in a town don't like it, their representatives can pass a law.
Another important thing to remember is that a ban on a particular product doesn't generally have the effect of preventing people from purchasing it; it just creates a black market. Let's imagine the federal law passes. Does anyone imagine there won't instantly spring up a black market for 19 to 21-year-olds to purchase as many e-cigarettes or tobacco products as they want?
The only thing the law does is give power to the federal government over aspects of our lives they should not have. If we allow the federal government to tell a legal adult of 20 they can't purchase an e-cigarette, and the state and local community has no right to override such a rule, then what power are we not granting it?
Tom Liberman