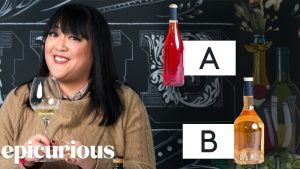 Have you been buying wine properly? That's the premise of a clickbait Facebook post from Naked Wines that's circulating through my friends' timeline. Lots of people are buying wine and there is certainly an interest in doing it properly. It's not so much the article but the comments that interest me.
The premise of the article is that more expensive wines are largely the same as less expensive wine but you are paying for marketing, brand recognition, and overhead rather than the simply the wine in the bottle. The comment section was predictably filled with people who laughed at those fools who purchased expensive wine opposed to those who ridiculed bumpkins for their unsophisticated palate in cheap, sweet wines. What a surprise.
The reality of the situation is pretty clear. When buying wine, you should purchase what you want. While I might wax poetic that such is the mantra of the Libertarian, the reality is we all feel this way. We all, largely, buy the things we want to buy for a variety of different reason. Perhaps you like inexpensive wines, perhaps you don't particularly like cheap wine but you lack the funds to purchase the wine you enjoy more, maybe you don't have the money but want to treat yourself, maybe you find the taste of cheap wine vile and only purchase expensive bottles. In the immortal words of Tripper Harrison, it just doesn't matter.
We can argue subjective versus objective but I've done that before. If you like the cheap wine then drink it. If you prefer buying wine of an expensive nature, for whatever reason, then do so. Most importantly, the kind of wines someone else purchases are their business and the only reason you are annoyed by that is feelings of inadequacy in yourself. Your underlying lack of self-worth is what drives you to criticize others in this regard, doing so makes you feel better. That's the crime in all of this.
If you find yourself criticizing the choices of others; the wine they purchase, the sport they enjoy, their hobby, who they choose to ignore on Facebook, or any other choice, then you are the problem, not them. Look in the mirror.
If you find yourself constantly ridiculing those with different tastes than your own then you have a significant problem, not them. If you get enjoyment by putting others down, demeaning them, calling them names, it is you who is failing life.
If you want lead your life in this fashion, whatever. I'm happy with the way I am and I don't really care all that much. Be a shit if you want but don't expect me to care about your opinion.
As for buying wine and drinking it? My advice, enjoy.
Tom Liberman