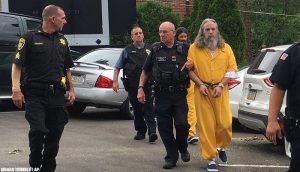 Lee Kaplan, Daniel Stoltzfus, and Savilla Stoltzfus were recently found guilty of horrific crimes. The case is quite interesting from a Libertarian perspective because all the criminals and victims don't think anything illegal happened. They are all happy with events as they transpired.
The case is centered around the fact Kaplan helped the Stolzfus family financially and they in turn handed seven of their daughters over to him. He began sexually molesting the girls at least from the time they were only seven years old. The mother lived with Kaplan and helped deliver her own granddaughters. In testimony, the accused and their victims argue they did nothing wrong. The parents contend they have the right to hand over the children and the girls imagine they love Kaplan and he loves them in return.
What happened is vile and criminal. Just because the victim of a crime doesn't realize she or he is a victim doesn't mean no crime occurred. This seems to be at odds with the general Libertarian mantra that victimless crimes are not crimes at all. Just people engaging in behavior they desire. Libertarians certainly argue this case for the many and myriad drug crimes on the books and also for cases of prostitution.
This is where I break from a number of what I would call fundamentalist Libertarians. These are those largely ideologically in line with my own thoughts but who have come to despise all forms of government and regulation. This is where Libertarians slip into being Anarchists. I think there are people in this world, children included, not capable of making their own decisions. Those who can easily be manipulated into believing things are perfectly normal and acceptable when they are not.
One of the leading Libertarians, who I largely respect, recently wrote a long article about how children should be allowed to work without government intervention. That by allowing them to earn money we emancipate them. This is a problem for me for a number of reasons. One of which is that I like to consider myself a student of history. Child labor laws, while sometimes draconian, came about in response to terrible crimes against children.
Industrial captains went to orphanages and adopted groups of children to work in their factories doing dangerous jobs. One of the most prominent stories involving this sort of behavior involves an orphan named Joseph von Fraunhofer who became a famous physicist.
In addition, it was not uncommon for men to adopt young girls grooming them for eventual marriage much in the way Kaplan did in this case. The history of horrible abuse against children goes back as far as the written record.
There are people in this world in need of protection. People who simply cannot, by the circumstances of their birth, mental, and physical conditions, take care of themselves. They can be manipulated into performing terrible acts and believing they enjoy doing them.
This is one of the roles of government in society. I'm certainly not suggesting government doesn't make a mess of things and overregulate and over criminalize. I'm just saying cases like this one convince me some form of government is necessary.
Kaplan is a sick and depraved individual. His manipulation of the Stoltzfus family is appalling. When he convinced the parents to relinquish their children to him he was being despicable. When the parents handed over their children to someone else they were, in my opinion, breaking a justified law. It must be illegal to barter children because they cannot protect themselves.
Just because someone thinks they are doing something willingly doesn't mean the actions being done to them should be legal. We must take into account the victim. Children, physically disabled, mentally disabled, and others need protection by the state.
Now, if the Stoltzfus's had simply handed over all their money to Kaplan I wouldn't have a problem. It is their money do with as they will. If they handed over possessions or allowed Kaplan to live with them and use their car, I would have no problem. They are fools, certainly, but they are adults giving away their own possessions.
Children are not possessions and that's why I'm a Libertarian, not an Anarchist.
Tom Liberman