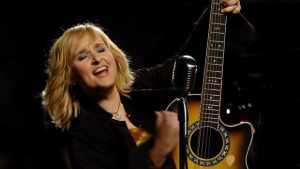 Singer Melissa Etheridge recently gave an interview where she talks about smoking marijuana with her two older children. The comments are predictably judgmental although there are more people defending Etheridge than I expected. Count me among them.
I could make a lot of arguments comparing marijuana to alcohol. I had my first sip of beer at the tender age of ten from a can my father was drinking. I drank wine even before that at Passover celebrations. I could point out she lives in California where marijuana is perfectly legal. I could mention Etheridge was diagnosed with breast cancer in 2004 and marijuana can be a useful appetite stimulant. I'm going to forego all of those arguments for another that strikes directly to my Libertarian ideology.
What Etheridge does in the privacy of her own home with her adult children is none of your business. You don't have any right to tell her how to behave both from a legal standpoint and more importantly, from an ethical position.
We are so overly sanctimonious in this country that I sometimes get physically sick to my stomach reading comments. I don't care how much better you think you are than someone else, mind your business. I don't care how your parents chose to raise you, mind your business.
I don't care if you're opposed to people smoking marijuana, mind your business.
The vast majority of people in this country or overly interested in what everyone else is doing. We have become a nation of busybodies and tattletales. I'm reminded of one of the great lines from The Right Stuff.
The John Glenn and Scott Carpenter characters are upset that some of the other Apollo astronauts are engaging in premarital sex with pretty young women interested in mingling with the heroes. The Alan Shepard character tells them off with Mr. Glenn, you are way out of line. I'd advise you not to try and foist your view of morality on anybody else in this group.
Exactly.
My morality is mine. Yours is yours. And that's just fine. If you want to do things differently than I'd do them, fine by you. I can choose not to associate with you, but it is not my job to tell you how to lead your life.
We, as an entire nation, are way out of line. Do not question the way another person goes about doing their business. It's one of the most important lessons I learned while at college in Idaho. The way another person goes about their business is largely none of your concern. We need to be far more worried about how we go about conducting our own lives and far less about everyone else.
This holier than thou attitude is not good. It pervades every aspect of our lives. Maybe I'm an old curmudgeon but it seems to me with the advent of always available media and communication we are more than ever concerned with things that are just none of our business.
If Etheridge wants to smoke marijuana with her kids then more power to her. If you choose not to do so it doesn't make you better or worse than her, just different. Stop pretending otherwise in some self-delusionary attempt to make yourself feel better.
Mind your business.
Tom Liberman