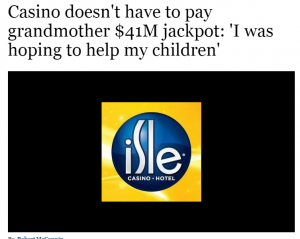 The big, bad, old evil casino is refusing to pay Pauline McKee her $41 million winnings and isn't that just awful?
At least that's what the misleading heading from the Chicago Tribune would like you to think. Here's the real story.
McKee was playing penny slots and won $1.85 but an error on the machine posted a message proclaiming that she won a $41 million bonus. The casino employees came over and immediately paid her real winnings, shut the machine down, gave her money to play another machine, and paid for her and her family's room that night.
The casino did more than enough.
McKee responded by filing a lawsuit for $41 million.
If there's a villain here it's granny.
Tom Liberman
Sword and Sorcery fantasy with a Libertarian Ideology
Current Release: The Black Sphere
Next Release: The Girl in Glass I: Apparition