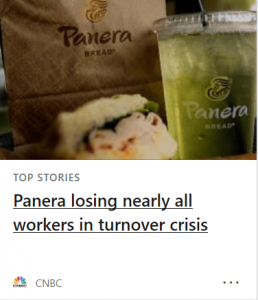 There's an absolutely fascinating article about employee turnover at CNBC but it unfortunately has a completely misleading headline that is nothing more than clickbait. I highly recommend looking at the article despite the Panera Losing All Workers headline.
It is true that Panera loses 95% of their workforce each year but a perusal of the article indicates that is actually a good number in the fast food industry. Most such companies lose nearly 130% of their workforce each year. Panera is actually doing quite well in that regard.
The interesting information comes from the article itself which is lengthy and technical with a variety of useful metrics. Exactly the sort of thing I like to read but I suspect doesn't get a lot of viewership without misleading headlines. Too bad.
I won't bore you with the details of the article as this is more about the misleading headline than anything else. Suffice it to say, no one wants to work in the fast food industry and there is no package of salary, benefits, and training that makes sense from a corporate and profitability standpoint that attracts permanent employees to the business. People take the job until they get something better.
The key to staffing such stores is automation and the various companies are moving forward with plans to do so. I wrote about this sort of thing in other places so you can read that article if you desire.
In any case, it's an excellent and well researched article, just a misleading headline.
Tom Liberman