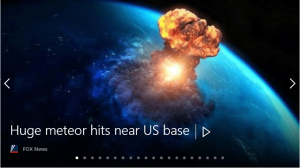 A Misleading Headline would suggest to you that the United States Air Force is covering up an enormous meteor strike that hit near the Thule Air Force base in Greenland. It's true a meteor did explode some twenty-seven miles above the earth with a force of 2.1 kilotons. It's also true the Air Force is not reporting about the incident. That may seem like some sort of cover up but you have to take several factors in to account.
First, the Air Force isn't the one that reports meteor strikes, that's the job of NASA and their Fireball and Bolide Report. That report includes this particular strike. The data indicates it was no different than dozens of other such events that occur yearly. So unremarkable was the strike that no one even bothered to write a story about it until it was reported by an Australian Astronomy organization.
Then Fox News got a hold of the article and began splashing the headline across its front page. Suddenly it was a huge story. It's not.
Tom Liberman