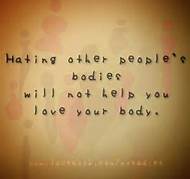 Perhaps I'm not the best person in the world to be talking about overweight people and the public perception they face in the United States. I'm 5′ 7″ and about 165 pounds. I work out five days a week and come from a family of relatively thin people. Still, the pure mean-spirited nastiness I see directed towards overweight people sometimes stuns me.
I just finished reading a story about a Frenchman who was denied a flight back to France because he weighs over 500 pounds. The airline couldn't accommodate him because of his weight. In the article it was mentioned that he was in the United States receiving medical treatment for a hormone disorder at the Mayo Clinic in Minnesota. This is in all likelihood at least partially responsible for his weight gain while in the U.S.
The family made alternate plans and will now take a train to the coast and liner to Europe. I understand the airline and their policy and certainly the family itself does not seem to have an issue with happened, or at least nothing of that sort was mentioned in the article.
What prompted me to write this blog was the avalanche of horrible comments below the article itself. I've a number of friends who battle weight problems and, even though I'm relatively thin, I'm trying to get a little more fit and drop some weight.
The thing about losing weight that is so difficult is that eating is something we do every day. Eating can be an incredible joyful and sensual experience. I love to eat good food. I've been accused by dining mates of having sex with a particular good order of oysters. Drool … oysters on the half-shell.
If you are a drug addict, or a cigarette smoker, or an alcoholic the best method of removing the addiction from your life is to completely end the habit, cold-turkey as they call it. That's just not possible with food. We must eat and it is generally healthy to eat multiple times each day. There is temptation at every turn. To lose weight and keep it off you must be strong for not a week or a month but for the rest of your life.
In addition it is not just eating better but you must exercise. You must find time in an already busy day to get to the gym and do cardiovascular and weight work. That is the only true path to fitness and anyone who tells you it's easy is lying.
I'm single, I have no pets, I work at most 40 hours a week so it's not that hard for me to get to the gym almost every day, but even then it's not easy. I have to make myself do it. I shop only for myself so if I refrain from buying fatty foods at the grocery store then I'm not tempted by having them nearby.
Losing weight and keeping it off is one of the most difficult things you will ever have to do. It's not easy, it requires effort every day, multiple times a day.
What bothers me the most is all the hate towards overweight people. It's not like I'm covering exciting new ground here. The vast majority of people know that it is difficult to keep off weight. The diet industry is huge. The exercise industry is huge. Food is cheap and abundant. It is designed to be tasty so that we overeat. Human nature is to eat while the eating is good.
So, why all the hate? Why the nasty comments? If almost everyone realizes how difficult it is to lose weight and get fit why do we see so many spiteful comments?
When my overweight friends take steps to solve the problem I encourage them. I help in any way I can. I don't make nasty comments about them to their face or behind their back. What's the difference between me and the people making those nasty comments?
I'm at a point in my life where I'm increasingly less inclined to be cruel to other people in order to feel better about myself. In fact, being cruel makes me feel worse about myself. If you'll forgive my smug self-satisfaction, I'm simply the better person.
Are you?
Tom Liberman
Sword and Sorcery fantasy with a Libertarian Ideology
Current Release: The Spear of the Hunt
Next Release: The Broken Throne