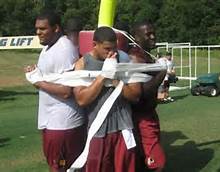 Hazing is in the news lately with a plethora of stories about the Miami Dolphins football team and in particular the incidents between Richie Incognito and Jonathan Martin.
There are a lot of opinions about who is in the wrong in that particular case. What I want to talk about is the real purpose of hazing and how it clearly got out of control with the Dolphins.
What is Hazing?
One of the major issues is that people confuse the term hazing with the idea of Rite of Passage. Most hazing is really just Rite of Passage ceremonies gone out of control. When hazing is done properly as a Rite of Passage it serves a useful and productive purpose.
When someone joins an organization there are already established veterans of that group in positions of leadership. There is a clear delineation between those who have already worked for an organization and those who are newcomers. This is most clearly seen in groups that are exposed to dangerous situations, particularly the military.
These Rites of Passage tend to be modestly painful and somewhat humiliating but are on the whole affirming in nature. It means that a newcomer to an organization has successfully joined and is welcome as a full-fledged member.
When does it go Wrong?
So, where does it all go wrong and become hazing? How does a bully and sadistic person like Incognito get into a position where he can satisfy his sick urges by hurting other people? I'm not here to argue about who is right and who is wrong in the Dolphins situation, there are no winners there. Incognito is a sick man and his history of behavior throughout life shows it. Martin was too timid and let things get out of hand. What I want to talk about is how Incognito and men like him are allowed to live out their violent pseudo-sexual fantasies without being curbed by rational men.
The Rite of Passage is a good thing but it attracts bad people. People who enjoy hurting others. People who enjoy humiliating others. People who get a perverse sexual satisfaction from being in a position of power and abusing those under them. People like Incognito. If you've ever seen the movie Dazed and Confused the opening scenes illustrate the difference starkly and the entire movie studies this subject with great clarity.
The sociopath and borderline personalities of the world are attracted to the hazing process; of this there is no question. However, as long as veteran leadership is alert to such individuals and takes active steps to curb them, then the Rite of Passage will remain a positive experience. When leadership fails then disaster follows.
How to Stop it going Wrong
Leadership, or coaches and veterans, on the Dolphins bear the brunt of the responsibility for what happened. They willfully chose to allow it to happen. They can claim ignorance all they want, it's their job to be leaders. It's their duty to help the rookies and young players become better men. It's their responsibility to curb men like Incognito who are what they are and always will be so.
This failure of leadership, this utter abrogation of responsibility, this moral and ethical indifference is what allowed everything else to happen. Good people must always stand up when they see abuses of power. Good soldiers, good police officers, good football players, good college students. When this happens the sick people who relish in pain and abuse cannot succeed. The police officers who abuse suspects, the military officers who torture prisoners, the prison guards who abuse inmates, the teachers who abuse students, and all of their ilk cannot destroy the lives of those under their control.
If you are a leader, be a leader. A lot of people's lives depend on you.
Tom Liberman