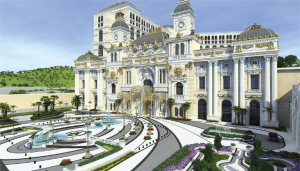 A company claiming to be a Chinese casino purveyor completely owns and largely operates the United States island of Saipan. The total corruption of government is something that happens in foreign countries, not in the United States of America, or so you thought.
Saipan is Commonwealth of the United States. This means it operates under United States law. Well, at least it did until a Chinese company called Imperial Pacific moved into town. They claim to own and operate casinos although they are really a money laundering organization. Wealthy Chinese citizens fly to Saipan, turn in enormous sums of yuan currency, play the tables for a few days winning or losing small amounts, and then collect their money in dollars, euros, or sterling. This allows them to take their money out of China, where it might be seized by the communist government at any moment, and transfer it to banks throughout the world where it less likely to be stolen. The middle people take their cut and that share has completely corrupted the government of Saipan.
The problem is they need the support of the local government in order to make this happen. Before the casino was finished, it still isn't in full operation, it was doing about $2 billion a month in transactions. Imperial Pacific pays $15 million a year to the local government and has hired former U.S. Governors and high-level FBI and CIA officials to front its operations. These are merely bribes to ensure they can continue their operations without legal oversight. Lawmakers in Saipan have changed any number of laws in order to accommodate Imperial Pacific's various schemes. The families of the leading politicians are all on the payroll one way or another, construction projects, zoning plans, land deals, etc.
The casino itself was built in an unsafe way by undocumented workers, all because the politicians of Saipan and their friends in the United States willfully turned, and continue to turn, a blind eye. There's money to be made, after all.
That's the moral of the story. Never has the world been so awash in money, enormous sums. When people try to resist this avalanche of cash they are simply ignored or punished. The only people who get ahead are those on the take. Government is swept away in the wave.
You might think the United States is immune to the malign influence of corruption, graft, and bribery. Those days are over. Wealthy democracies are slowly succumbing to this influence. Those who worship money are quickly coming into positions of power the world over.
What's at stake? Your freedom.
Tom Liberman