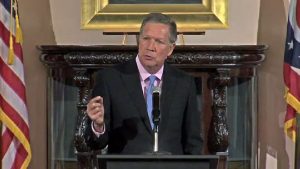 Governor John Kasich and the legislature of Ohio just joined Governor Chris Christie and New Jersey in limiting the length of prescriptions for Opioids to one week. Of the new law Kasich said, We all need to stick our noses into somebody else's business.
Before I go on a Libertarian induced rage rant let's examine why this is happening.
Pharmaceutical companies have been pumping out enormous amounts of opioids like fentanyl and doctors have been prescribing them in equally large numbers. While the authorities have been quite aggressive about jailing opioid dealers who aren't pharmaceutical companies and doctors they have largely allowed these two groups to garner huge profits. Meanwhile the people being prescribed the drugs eventually run out of their prescriptions and resort to illegal sources for their addictions.
The thought process behind the limit of seven days rather than ninety days is that there will be fewer unused pills to sell to the black market. And because there will be fewer of these legally prescribed pills somehow this will magically reduce the market for them. Somehow no one will come along to fill the void in true supply-side economic fashion.
What will the new law actually accomplish? It will make it horribly inconvenient for people in terrible pain to get the pills they need to make it through the day. This law punishes the critically ill. It must be noted cancer patients and people in hospice are exempt but that leaves a lot of other people in a difficult situation. People who are critically ill don't really want to go to the doctor once a week for their prescription and then have to pick it up. They are, you see, critically ill and in horrible pain.
So we're making life a living nightmare for a group of people to reduce opioids on the street. But will there be fewer illegal drugs for people to purchase? Of course not. Where there is a demand there will be supply. Price goes up. People in terrible pain and addicts will have to pay more. And how do they get this money? Generally by stealing from other people.
Addiction is a terrible thing and I'm all for decriminalization and treatment. This law doesn't help anyone and it hurts lots of people.
Well, that's not true. It helps politicians like Kasich pretend they are doing something about a terrible problem. Next time you vote, remember they aren't helping anyone but themselves. That's the only way to bring about change.
Tom Liberman
Sword and Sorcery fantasy with a Libertarian Ideology
Current Release: The Gray Horn
April 2017 Release: For the Gray