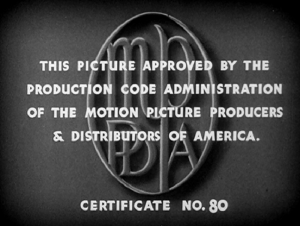 Thanks to Bing Search I learned today the Motion Picture Production Code, more commonly known as the Hays Code, was first put into effect eight-seven years ago. It stayed in place for about thirty years before it eventually was replaced with the rating system movies use to this day.
The lesson I'd like to talk about today is why the code failed. Before we get to that, let's find out what it was and why it was created.
Basically the code restricted all sorts of things from being depicted in movies. The list of banned items included any non-reverent mention of god, trafficking of illegal drugs, and ridicule of the clergy. The list of items to be treated with great caution included cruelty to animals or children, adults in bed together, and the use of firearms.
Movies that did not meet the standards laid out by the Code were not given a Certificate of Approval and could not be released.
The reason the code was put into place was a general feeling of moral outrage that movies were bringing unsavory ideas to audiences. The individual states had begun to put in place their own bans after the Supreme Court ruled movies were not subject to Freedom of Speech protection.
Enough prelude. I'm not going to waste time talking about why the Code was against Libertarian philosophy although I could. I want to focus, quickly and efficiently, on why it failed. That's what is most important.
Starting almost immediately after the Code was emplaced movie makers started to create films outside the main studios that bypassed the rules. They released them independently.
It wasn't until competition became an issue that the major studios began to make movies and release them regardless of whether they had a Certificate of Approval. In addition, Foreign films were not subject to the restrictions, television was not subject to the restrictions. The studios tried to keep foreign films from being shown but the Supreme Court ruled this illegal.
Competition. People wanted to see movies that included this sort of content. Not that they went to the movie simply because it had such content but it's clear such movies had a much larger field upon which to play. They could tell stories in ways movies using the Code could not.
Lots of people wanted to see movies made without the restrictions of the Code.
And thus the studios began to make them and simply ignore the Code. Some Like it Hot was the film that basically ended the code. It was released without the Certificate of Approval and was a huge success.
The lesson to be learned here is when government attempts to enforce moral codes on people it is doomed to failure, simply because people want what they want. You cannot pretend because something is supposedly bad or dangerous, passing a law will fix the problem. It won't. It will create a host of other issues while completing failing to solve the issue.
Tom Liberman
Sword and Sorcery fantasy with a Libertarian Ideology
Current Release: The Gray Horn
April 2017 Release: For the Gray