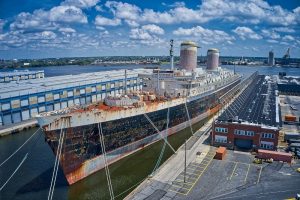 Back in 1952 U.S. taxpayers footed a $50 million dollar bill to build the SS United States and it gives me an opportunity to examine the value of government spending. Was it worth it to taxpayers to get the SS United States or was it a giant boondoggle with no value?
At the time of construction there was a competition called the Blue Riband for the fastest passenger liner to regularly cross the Atlantic Ocean and the SS United States was built with this award at least partially in mind. Aluminium was used extensively in the design lightening the weight and it was equipped with extremely powerful engines, making it almost certain to receive the award. Upon completion it did so, as expected, in both the eastbound and westbound directions.
However, with the advent of air travel, the financial feasibility of luxury liners diminished to almost nothing and the SS United States was soon unprofitable and eventually pulled from duty in 1969. Since then, the ship has cost various owners enormous sums of money; thankfully not tax-payers although such money was requested on multiple occasions.
For $50 million dollars the United States got a couple of awards that soon drifted into obscurity and seventeen years of presumably moderately profitable service for the owners, who provided the remaining $28 million in financing.
Was it worth it? That's my question today. The only reason the United States government got involved in the project was for the prestige. Yes, they made noise about it being able to be converted into a troop ship but I'm interested in reality, not government gibberish designed to fabricate a reason for the way they do business.
Was a couple of awards worth $50 million? This question goes to the heart of a great deal of expenditures made by the U.S. government. The entirety of the manned space program as it currently exists is justified by the same logic.
It's quite clear to me this money was wasted on a project that had little value to the tax-payers who footed the bill. Was it a source of pride? Sure. Did it help the ship workers at Newport News understand how to work with aluminium? Yes. These are not reasons enough, in my opinion; although I'd like to hear what you think as well.

Loading ...
Tom Liberman