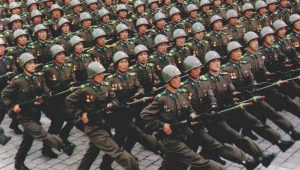 Prior to the election, President Trump got a lot of grief and praise for tough talk in regards to North Korea and their military ambitions. This tough talk was well-received by those who like such things but reality has set in, at least for Trump, and that is a good thing. The keyboard warriors haven't changed their attitude at all.
Those that support Trump generally believe a military solution to the problem of North Korea is on the table despite the fact such action is largely impossible because of the terrible harm that would come to South Korea and Japan and the fact that China and Russia are not going to allow us to operate in the region in an unfettered fashion.
What I find interesting is that Trump has stopped speaking about military solutions, as have his advisors, even as North Korea intentionally provokes them. This shows an understanding of the complexities of the situation and the difficulties of any solutions. Meanwhile the comments section of any article about North Korea and their various missile tests are filled with Trump supporters repeating his campaign rhetoric. That North Korea wouldn't dare tests more missiles now that we have a tough president. This despite the obvious reality North Korea thrives on saber rattling and has ramped up their program hoping to provoke the current administration.
This disconnect interests me. Now that he is actually in power, Trump apparently understands the limited options available to us as far as North Korea and other nations are concerned. His tough talk has faded into basically the same policy pursued by previous presidents in regards to North Korea, Iran, and other nations we perceive as the enemy. Mostly diplomacy, a fair number of drone strikes, and a few raids with soldiers on the ground.
We have changed presidents but the world largely remains the same whether or not supporters of Trump choose to believe it or not.
I think this is perfectly natural. When we don't actually have to make a decision, or take any action, we tend to have a very different reaction to situations than when we are in a position of authority. Once we come into a place where we are responsible for the outcome, our behavior tends to change pretty dramatically. It's always easy as a keyboard warrior to utter tough words, but when the reality of the difficulties and dangers of a situation become clear, particularly the negative outcomes, we suddenly become more cautious.
Thus, I don't really mind the disconnection between Trump and his legion of keyboard warriors. They are behaving fairly normally, as is he.
One of the few problems with this is when such banter bleeds over into real life. When people delude themselves into believing their online persona is their actual personality. Then trouble can ensue if they say the wrong thing to the wrong person. If we were to say something to a person in real life that we have no trouble uttering in an online situation we might get a fist to the face.
In conclusion, don't get too upset by the keyboard warriors. They are probably pretty nice folk in real life.
Tom Liberman