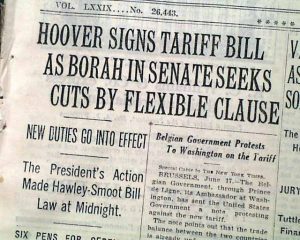 President Trump plans to establish a large tariff on steel and aluminum. He is an avowed protectionist and that generally means making it more expensive for foreign companies to do business in the United States. I wrote a blog specifically about the trade in automobiles and our agreements with Mexico in January of 2017 but the situation is different enough this time that I thought I'd revisit the subject.
The basic idea behind almost any tariff is that foreign countries are engaged in supporting various industries in their nation and this gives those companies an unfair advantage over competing companies in the United States. I will not be getting into a discussion about the long-term impact of trade wars and how industry in the United States might be negatively impacted if countries choose to retaliate against our trade laws. Nor will I be talking about what constitutes unfair trade and our own transgressions in that regard. I'd like to keep today's topic on the simple idea of the immediate impact of the tariffs.
Countries that import aluminum and steel into the United States will have to pay more in order to do business in this country. In the case of steel, a whopping twenty-five percent more. This means companies in the United States currently producing steel will gain a competitive advantage. Those companies might hire more workers and open more plants to start producing steel at a price higher than is currently being sold by those foreign countries but at a lower price than after the tariffs come into play.
Let's imagine a steel manufacturer in a foreign country currently produces steel at a price of X. A competing company in the United States produces steel at a price of Y. X is less than Y and therefore foreign companies are selling us lots of steel. However, X is less than Y*1.25 and thus United States companies will be aided. They will benefit. That's the main idea behind protectionism and at this point you might be nodding your head and thinking what a great idea it is. There is, as they say, a rub.
Everyone in the United States purchases and uses products with steel and aluminum in them. From soda and beer cans, to cars, to packaging, to windows, to doors, to siding, to many household items, street lighting, electrical lines, and more. Steel is used in buildings, roads, appliances, guns, cutlery, watches, surgical instruments, and more.
When the price of steel inevitably goes up because of these tariffs then everyone who uses these items, and that means everyone in the United States, every man, woman, and child, pays more. If people have to pay more for one thing then they inevitably have less money to pay for other things. Perhaps a family decides not to get their deck rebuilt or decides to pass on that Nashville vacation this year.
The case against Chinese steel has merit. It is possible the government is helping industry manufacturer steel at a price that cannot be met by U.S. steel companies. The question we must ask is who is hurt by this practice and who is helped?
The answer is quite straight forward. The companies and people in the United States who produce steel are hurt as are the taxpayers in China. The people who are helped is everyone in the United States including the steelworkers who get various products at a cheaper rate.
That's economics. If you can get a comparable product at a cheaper price then you do so. You should do so. That's a good thing. That good thing is what tariffs subvert. These tariffs will help a small percentage of the people in the United States, there is no doubt about that. That's the appeal. We see an industry and want to help it, not thinking about the larger ramifications of such policies.
Whenever I'm talking about subjects of this nature I always remember the underrated gem, Other People's Money. Danny DeVito plays Larry Garfield and gives an impassioned speech about the last buggy whip manufacturer. If a company can't compete, they need to get out of the business before they are totally bankrupt.
If the government steps in and increases the price of steel then United States companies will be able to sell their product in the United States but there alone. No other country will want our high-priced steel. Eventually the tariffs will fail, as they always do. Then the steel companies and you will be back where we started. The difference will be that you'll have less money in your pocket.
That's the facts. That why economists don't like tariffs and protectionist policies in general. They stave off the inevitable at an enormous cost.
Do I feel pity for the steel industry and the workers? You bet I do. It's a sad fact of life. Everyone can't be a winner in the game. That's the nature of the world and of economics. President Trump would be far better off using taxpayer money on retraining steel workers for industries that can compete. I'd be all for that.
I cannot, I will not support tariffs. They just don't work.
Tom Liberman