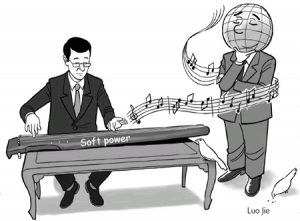 I just read an interesting article about how Russia is advancing their political cause by opening up educational opportunities to foreign students, this is an element of something called Soft Power. In the last twenty years Russia and China, perhaps realizing the United States military is largely unassailable, have been ramping up their use of this method of acquiring power in the world and we need be aware of this strategy.
I've written about how the United States is losing their edge in the education world more than once and you might want to peruse those articles here and here. Meanwhile, I'll continue with this one.
The idea of Soft Power essentially means getting other nations to want to be like you. For the entire history of the United States we have enjoyed an enormous advantage in Soft Power simply because our Constitution guaranteed us freedom and with this freedom came upward mobility on a scale never before seen in the history of the world. Our colleges attracted foreign students in enormous numbers, and still do. These students went back to their home countries with stories about the plentiful opportunities the United States has to offer.
The effectiveness of this Soft Power was demonstrated particularly after World War II when it defeated the Soviet Union who, at the time, was much more interested in Hard Power. The United States offered hope and opportunity, a lady with open arms and a welcoming smile in the Upper New York Bay. When the United States came into existence there were very few nations in the world where the people were free, that has changed, largely because of our use of Soft Power rather than military exercises. Freedom has spread.
Success engenders imitation and the leaders of China and Russia, Xi Jinping and Vladimir Putin, are spending a great deal of time, effort, and money in that flattery. They see it works and are now implementing various strategies across the globe designed to demonstrate the value of China and Russia to the people of other nations.
Meanwhile the United States is going in the opposite direction. We have fewer foreign students than we had ten years ago. We are actively attempting to reduce the number further. We are sanctioning more and more countries making it difficult or impossible for our greatest Soft Power asset, capitalistic ideology, to do business with foreign states.
The United States is still a leader in propagating Soft Power throughout the world but we are heading in the wrong direction while our chief rivals are moving to supplant us. An America first plan ensures that we will become America third before too long. Relying on Hard Power didn't work for the Soviet Union and it's not going to work for us.
Tom Liberman