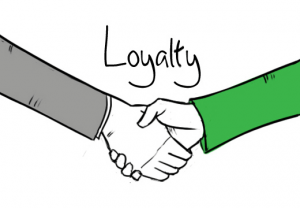 The 2016 presidential election in the United State is certainly a depressing, if blog generating, affair. The latest turn has Donald Trump accusing Republicans like Paul Ryan of being disloyal. Loyalty is a topic that I examine thoroughly in several of my novels including The Broken Throne and The Gray Horn.
I can unequivocally state that loyalty is a quality that we should all admire. The dictionary definition of loyalty does not truly convey what the word means. It is one of the things that holds the fabric of society together.
The state or quality of being loyal; faithfulness to commitments or obligations.
Loyalty takes on many forms but at its essence it means that we trust and support people in our lives. It is being there when friends are in need. It is understanding that we can have disagreements but still be there. It is sacrificing our own well-being to ensure that those we love are safe or have things they need. It can be loyalty to a nation, to an idea, to a group, and to an individual.
I consider myself loyal to my Libertarian ideology. I take abuse for my thoughts. Quite a number of people who I consider friends have called me stupid to my face for such beliefs. I don't hate them for it. I'm angry but if they needed my help I'd be there regardless. I'm loyal to the ideas of the United States even when things like the Patriot Act are part of that nation. I don't agree. I fight against such things but I remain loyal to the ideas of the nation.
Loyalty is a good thing and we should surround ourselves with people who respect the idea. Who practice the idea. But we must be careful of those who speak most strenuously of loyalty and yet do not show any themselves. They are the thugs of the world who use words like loyalty and honor to manipulate those of us who respect such ideas into doing their bidding while in turn showing no such traits themselves.
In my novel The Sword of Water Jon Gray speaks rather directly to this idea in an important speech. I won't repeat it here. Buy the book and read it. But the idea of his speech is very important.
There are certain people in this world who have no honor, no loyalty, who betray, back stab, and destroy anyone at anytime in order to further their own selfish ends. Thugs. They are to be particularly noted in that they condemn anyone who makes even the slightest objection to their rise as not having such traits. They understand the honorable and loyal will fall on the sword so to speak. That's what good people do. Thugs manipulate that idea for their own gain.
I imagine you can see where I'm going with this. Donald Trump is the most disloyal human I've ever seen. He doesn't pay his bills, he attacks former allies at the drop of a hat, he sues anyone at any time. He fires off hate filled diatribes at the slightest insult.
I understand there are many loyal people out there who defend Trump because they support the Republican Party or they support one or more causes in which they align with Trump. That's fine. That's your business. Vote for who you will.
I can only tell you one thing. Don't expect that loyalty to be returned.
Tom Liberman